26e & 7w RECEPTION REPORTS IN THE UK & MAPPED FOOTPRINTS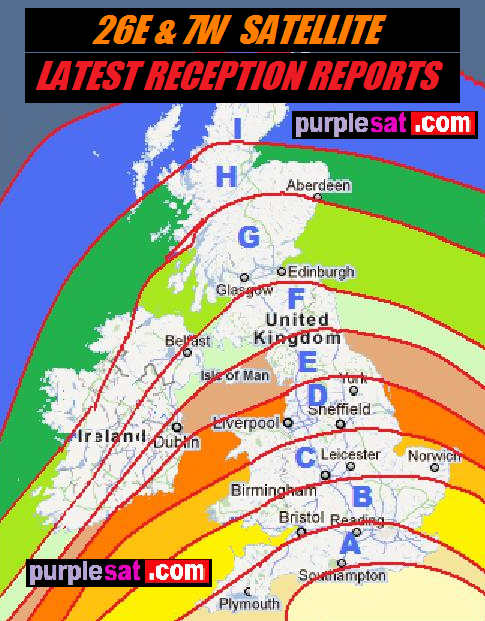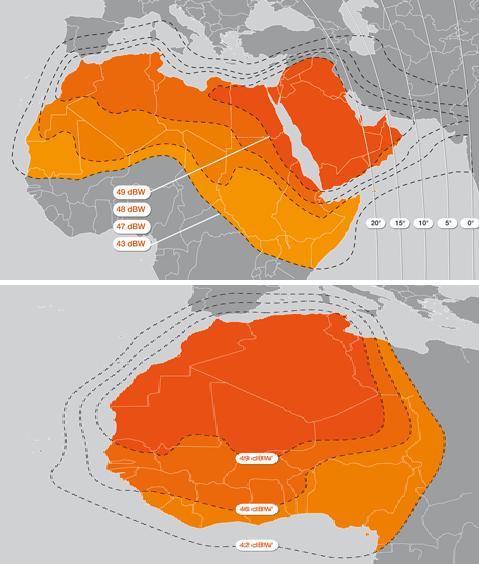 OUR UK RECEPTION REPORTS PROJECTED RECEPTION FOOTPRINT

Minimum dish sizes (on area) for UK reception of Eutelsat 7 West A - / Nilesat 104
**formerly AB7- Atlantic Bird 7 & leased Tps of Nilesat 104 @ 7.3w ** All dish sizes are the area measure or W+H / 2 & exclude rim.

< 70cm min.... England South Coast East side.
A 70-75cm
B = 76-80cm
C =81-85cm (68cm verified 'lock level' reception on best TP only).
D = 86-1m
E = 1m-1.2m Revised (90cm verified 'lock level' reception)
Unconfirmed >>>
F = 1-2.1.5m ... est
G = 1.5-1.8m ...est
H = 1.8-2.4m.. est
I = 2.4m+ .. est

7.3w Eutelsat 7 West A[formerly AB7 & the leased TPs of Nilesat 104] These dish sizes are minimum & should give reception most of the time but make no concession for bad weather or local interference margins & one should calculate a lager size if a higher margin is required. Dish sizes are based on surface area so width + height / 2 & not the offset measure or based on any manufacturer's or reseller's sizes or model numbers. These figures are also based quality BCS or Purplesat installations or equally quality installations. Any poor products &/or poor installation practices will alter these figures. Figures do not include all beams/ channels. Channels vary in power- these figures are based on the weaker but popular channels [movies & sport].. DVB-S2 & OSN channels require c. 20%-30% larger for the same lock level.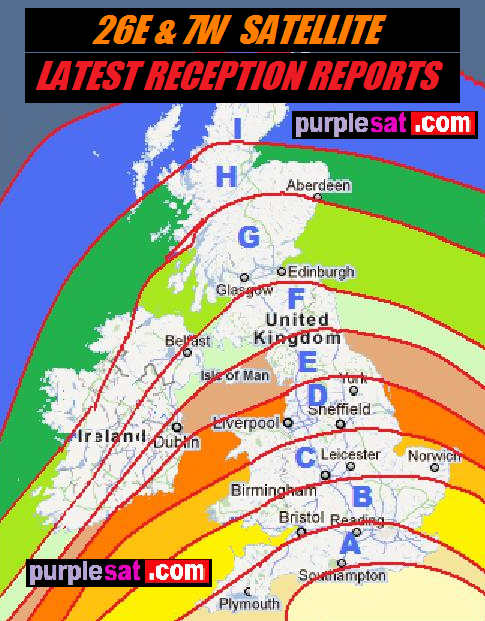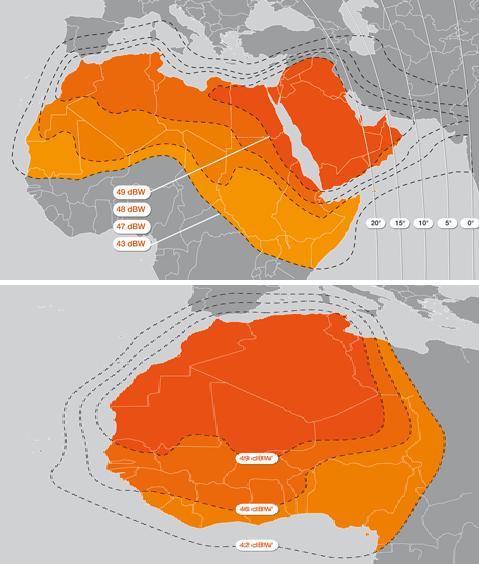 7w Nilesat 102 sizes for the reception of the strongest verticals start at c. 10-20% larger on area for areas A B C & much further north of zone C & the signal drops off quite sharply. Reception of more channels from Nilesat 102 in A B C (mid to low power verticals then the first horizontals to mid & then the lowest power horizontals) in zones A B C require increasingly larger dishes to all channels of estimates of 1.8m 2.4m 3m 3.2m 3.4m 3.6m [A B C] & larger for reception between 11am & 2:30pm- the high solar noise period on the reflector at the satellite.
NB: Reception figures for Nilesat 102 have worsened due to interference from the more powerful & more populated Eutelsat 7 West A raising the noise floor on near noise floor reception situations - this is not as noticeable in stronger situations as the change to the noise floor is further beneath reception breakup.

NILESAT 102 STRONG VERTICALS -- ALL TRANSPONDERS 24/7
< 80cm min.... ---------------------- 1.1 - 1.2M
A 80-85cm ..--------------------------- 1.2 - 1.8M
B = 85-90cm ..----------------------- 1.8M - 2.4M
C =90- 1.4cm ..----------------------- 2.4M - 3.6M
D = 1.5m - 3m ..-------------- 3.6M +
E = 3m+ ---->>> (1.1m confirmed lock level reception MBC channels - purplesat install)
Unconfirmed >>>
F =
G =
H =
I =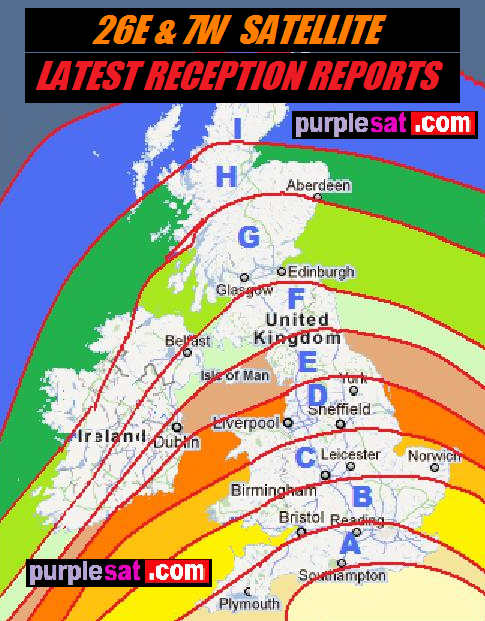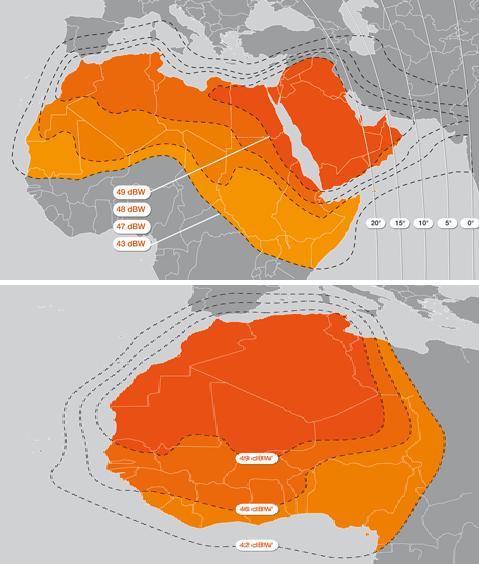 Nilesat 201 NOTE: ADMC - Abu Dhabi Sports HD [LIVE 3PMS] require larger dishes than below using their Humax ADMC card paired boxes due to their weak tuners & the DVB-S2 & 5/6 effect on fringe reception threshold).

2m minimum ** est'
A =2m-3m **
B = 2.2m- 4m
C = 2.4m- 4m++ (2.4m confirmed in Birmingham with some margin)
D = 3m- 5m est
E =
F =
G =
H =
I =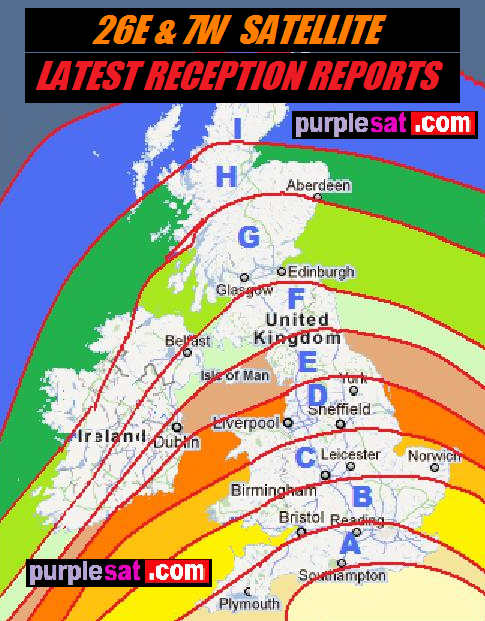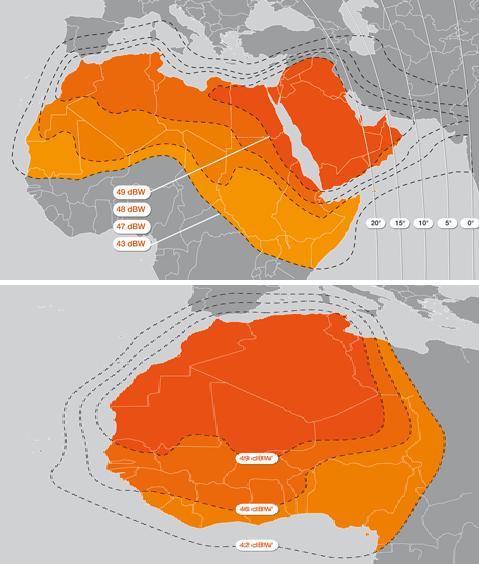 26e/ Badr4 dish sizes are generally a % smaller on area than Eutelsat 7 West A @ 7.3w - however- on smaller dish size areas it then requires the narrower beam width of the larger dish due to the close by powerful 28.2e UK Sky/Freesat services, therefore the smallest size** may need to be adjusted up to 7.3w figures below 80cm for this reason. 7w does have 2 satellites either side [5w & 8w] that are strong in the UK but far less channels so their noise image on 7w & 7.3w is different & more selected.

68cm minimum **....
A =70cm **
B = 75cm **
C =80cm
D = 85cm
E = 90cm
F = 1m
G = 1.1m
H = 1.2m
unconfirmed..
I = 1.5m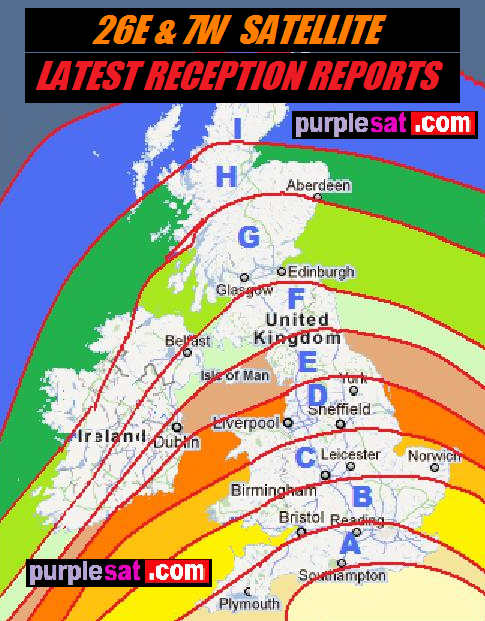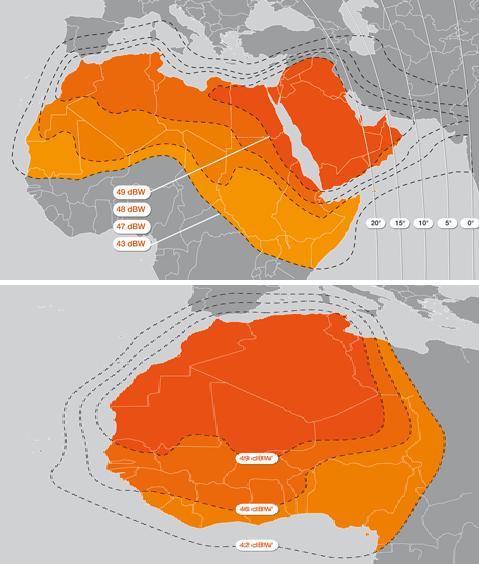 BADR 6 NOTE: ADMC - Abu Dhabi Sports HD [LIVE 3PMS] require larger dishes using their Humax ADMC card paired boxes due to their weak tuners & the DVB-S2 & 5/6 effect on fringe reception threshold).

1.8m minimum ** est'
A =1.8 -2.4m** confirmed
B = 2m - 3.6m confirmed
C = 2.4m -4.5m (2.4m confirmed with 10-15% margin including ADMC but not on ADMC stb)
unconfirmed..
D = 5M+ est'
E =
F =
G =
H =
I =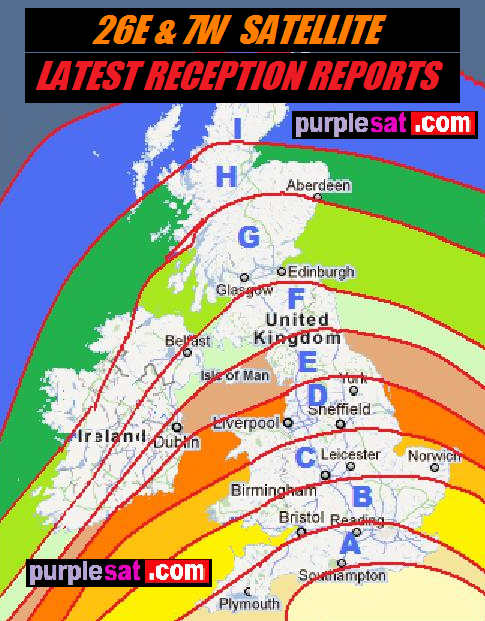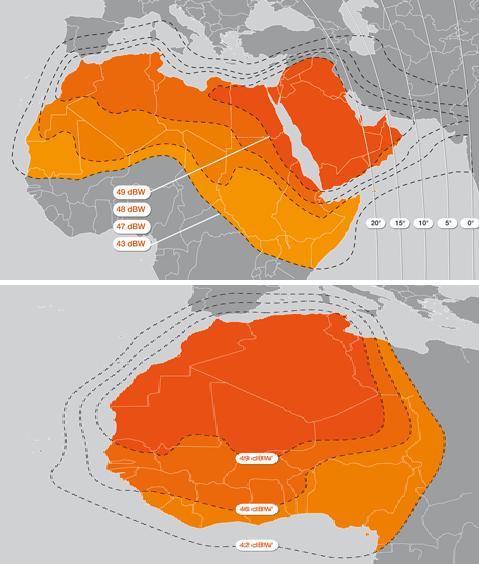 BADR 5 reception reports in UK
1.8m minimum ** est'
A =1.8 -2m** est
B = 2m- 3.6m est
C = 2.4m -4.5m (2.4m confirmed)
unconfirmed..
D = 5M+ est'
E =
F =
G =
H =
I =


IMPORTANT NOTES About DIFFERING BREAK UP LEVELS ON DVB-S -QPSK DVB-S2-8PSK/- most HD etc.. 2/3 3/4 & 5/6 FECs etc.. & daily sun effect signal cycles.

These figures are for good installations in average interference areas & average fringe EIRP for SD/ DVB-S QPSK reception with SR of 27500 & 3/4 FEC- areas can differ on interference either with interference quiet rural, coastal locations or interference noisy large area [city &/or industrial influence] locations & signal cold spots & hot spots of fringe reception.
In general figures are for DVB-S/ QPSK- FEC 3/4 & Symbol rate of 27500 .... allow 10% larger surface area for FEC 5/6 & 10% smaller for 2/3 FEC & 30% larger for 8PSK on DVB-S2. Some HD on DVB-S can be received with 20% smaller/ some 8PSK require even larger even though the signal looks similar - very high or very low symbol rates can also add another variable... in the above case it's higher (& lower) break up levels we are describing & not signal or quality levels so if a dvb-s channels @ 3/4 fec 27500 st qpsk breaks up at 50% on your receiver - an 8psk of the same strength may actually break up at 60%.

DIFFERING SIGNAL BREAK UP LEVELS! IIIIIIII
GENERAL GUIDES BASED ON A BASIC STB'S QUALITY METER X BREAK UP THRESHOLDS
******************************************************************************************
DETAILS BREAK UP LEVEL 50%
-------------------------------------------------------------------------------------------------------------------------------------------------------------
DVB-S QPSK - FEC 3/4 = AVERAGE - FEC 2/3 = LOWER FEC 5/6 = HIGHER BREAKUP.
DVB-S QPSK 2/3 FEC 27500 SR = 45% IIIIIIIIIIIIIIIIIIIIIIIIIIIIIIIIIIIIIIIIIIIIIIIIIIIIIIIIIIII
DVB-S QPSK 3/4 FEC 27500 SR = 50% IIIIIIIIIIIIIIIIIIIIIIIIIIIIIIIIIIIIIIIIIIIIIIIIIIIIIIIIIIII
DVB-S QPSK 5/6 FEC 27500 SR = 54% IIIIIIIIIIIIIIIIIIIIIIIIIIIIIIIIIIIIIIIIIIIIIIIIIIIIIIIIIIII
DVB-S QPSK 6/7 FEC 27500 SR = 57% IIIIIIIIIIIIIIIIIIIIIIIIIIIIIIIIIIIIIIIIIIIIIIIIIIIIIIIIIIII
DVB-S QPSK 7/8 FEC 27500 SR = 59% IIIIIIIIIIIIIIIIIIIIIIIIIIIIIIIIIIIIIIIIIIIIIIIIIIIIIIIIIIII
DVB-S QPSK 8/9 FEC 27500 SR = 63% IIIIIIIIIIIIIIIIIIIIIIIIIIIIIIIIIIIIIIIIIIIIIIIIIIIIIIIIIIII
DVB-S QPSK 9/10 FEC 27500 SR =65% IIIIIIIIIIIIIIIIIIIIIIIIIIIIIIIIIIIIIIIIIIIIIIIIIIIIIIIIIIII

DVB-S2 8PSK X FEC'S OF 2/3 3/4 5/6
DVB-S2 8PSK 2/3 FEC 27500 SR = 50% IIIIIIIIIIIIIIIIIIIIIIIIIIIIIIIIIIIIIIIIIIIIIIIIIIIIIIIIIII
DVB-S2 8PSK 3/4 FEC 27500 SR= 55-65% IIIIIIIIIIIIIIIIIIIIIIIIIIIIIIIIIIIIIIIIIIIIIIIIIIIIIIIIIIII
DVB-S2 8PSK 5/6 FEC 27500 SR = 60% 70% IIIIIIIIIIIIIIIIIIIIIIIIIIIIIIIIIIIIIIIIIIIIIIIIIIIIIIIIIIII

DVB-S2 QPSK 3/4 FEC 27500 SR= 43% IIIIIIIIIIIIIIIIIIIIIIIIIIIIIIIIIIIIIIIIIIIIIIIIIIIIIIIIIIII

SOME COMBINATION EXAMPLES ONLY - THERE ARE MANY OTHER COMBINATIONS & FACTORS INCLUDING noisy / busy satellites / TPs with transponders on the opposite pol' / symbol rates/ overall power/ cleaner or dirtier transmissions.
(see also FRINGE RECEPTION CYCLES & FREESAT 2D BEAM)

STRONGEST tps/ channels >> *Central UK!*

Strong signal lists can help keep your motorised satellite system up to date

This is for the centre of the UK but will also work quite well in western N.Europe.

SEE ALSO >>>> C BAND RECEPTION IN THE UK

*****************************************************************************************************************************
e/w__Freq_H/V_SR_CH_Name_S/Q_eli_PID updates .... (Last checked DATE on EACH SAT/ BEAM/ TP)
---------------------------------------------------------------------------------------------------------------------------------------------------------


75e_____________12548V_22000_________________1.5__(v extreme se only)
74e___________________________________india beam only 231010
72e_____________________feeds_______________se only
70.5e_______11210H_6509__radio on 38 audio_______50%__63%__1.9____(231010)
68.5_______1722VV_26657__CTV_______51%_____(300413) LOW LINE OF SIGHT FOR MOST OF UK + GROUND NOISE ETC.

busy satellite with a lot of channels if you have line of sight - est' 1m quality - inland UK suffers exessive noise at low level - south &/or east coast.

66e_______11488V_4123 1/2 308 256 ____________low__________(231010)
62e______10963h 5000 AOL DATA FEED ONLY BUT VERY STRONG @ 90% ON ZONE 2 - __DVBS2- 8PSK_.... (300413)
60e_____10972V 3330- FEEDS__spot 1 weak ______45%__52%__7.6..............(300413)

***************************************************************************************************************************************************
57e____11181V 2590 ASIA TV__V0110 A0111 P0110____DVBS ______61%___..................(300413)
11568V 2500 . DUHOK -musal - DVB-S2 8PSK 74% (300413)
--------------------------------------------------------------------------------------------------------------------------------
53e____11660v 2143 vpid 0512 apid 4096 ppid 0512 ARZU TV 90% ____(300413)
52.5e _____ feeds on Europe beam ...............................(080812)
48e
47.5e
46e __11156h) 46000 - high sr !- 11125h 10000......... 69% (300413)
45e___11522v 5787 __PRIMA_____95% (300413)
TURKSAT
42e______11804v_24444__TV2 (TNT)_v0525_a0781_p0142 __95% 97%_ (300413)
40e_____________________ now ku feeds & c band/ inclined orbit______________________________________
39e___12524H_30000__The Voice __987%__97%...................... ...(300413)
36e___12508H 2278 AZTV ...(300413)
33e___11602V 15709 MAP 85%__.................(300413)
31.5e______12304 h _ASTRA 1G >> 0103 0104 0103 large dish requuired..........(080812 MOVED )
31.5e ..................moved.................................................................................................................
30.5e____________________ARABSAT ..........larger dish needed ...(080812)
28.2e__10800h 22000 BBC1 NW.... 98% ...(300413)
28.2E WEAK - CBS-ACTION 11221H 27500 (300413)
BADR4
26e____12181h_16200__YEMEN_v0120 0145 0120____94% 97% .......(080812)
26e____12130v_27500__Dubai One _1103 1203 1103___87%__97% ...(080812)
26e____11919h_27500__MBC2 0403 0603 0403 92% 98% ...(180111)
BADR 5
26e_________________________________________11240v_27500 Dunia 0111 0112 0111
BADR6
26e_________________________________________11804h_27500_Al Emarat_0041 0141_0041___(BADR6)_
____________________________________________11727H 27500
____________________________________________11823V 27500 ADSPORTS (6-10) DVBS2 MPEG4 QPSK 5/6
____________________________________________11766H 27500_ ADSPORTS_(1-5) .. eg 1 HD vpid 0101 apid 0102 ppid0101
25.5e___11662V_2150 ____ UNSTABLE -45% - 75%
________11164H_7200__60% PEAK several others possible but weaker- 11390h27500/11585v27500 58% PEAK
23.5e__11914h_27500_Omroep_0521 0098 8190 ___98%__97% ...(080812)
23.5e__nordic beams.......................................................
21.6e_11530V 2857 AL RAI 80% (300413)
ASTRA 1
19.2e__12603h 22000 1280 2290 1280 98% 98% ...(300413)
SOME 8PSK-DVB-S2 HIGH BREAKUP
16e___11554H 30000 __84%__...(300413)
HOTBIRD
13e___10723 H 29900 ZAGROS 98% ...(300413)
10e___11386V 300000 85% ...(300413)
9e____ 12-054H 27500 98% ...(300413)
7e____ 121219H 27500__98% ...300413)
5e_________________________________________________________
4.8e___11765H 27500 88%_____...(300413)
NOTE - some Viasat HD have become harder to lock- eveinings are a little easier.
.........................................................................................
3e _____12662v 2200 2 (300413)
____ 12531h 1540 AYB (300413)
0-------------------------------------------------------------
0.8w__
THOR
0.8w___11862h_28000__BBC World 1w___98%__97%___v0518_a0684_p0518 ...(300413)
1w____12607v27500 BLANK__ 75%_____________________(300413)
AMOS
4w____10806V_30000___TA3 __76%
______10722H_30000__T-HOME TEST CARD 78% 180413
5w____12690V 29950 94% ...(300413)

NILESAT 102
7w____11938v_27500__MBC2__v4041_a4042_p4041__60% PEAK ..( 80812) dish 1.1
______12207v_ 27500______________________58% PEAK
______12284v_27500_____ JSC SPORTS TP__58% PEAK
______12130V_27500 _______________55% PEAK
______12054V_27500_____________53% PEAK
______12226H_27500_<<<____STRONGEST HORIZONTAL
NILESAT 201_
7w____1.8M -2.4M south of M4 - _2.4M 3.4M Midlands _3.5M-4M-5M+ North West - ADSPORTS_stb's add 20-30%_

EUTELSAT 7 WEST A
7.3w ___qatar - one of the strongest & the lowest break up[43%-76%] QPSK/ 3/4 FEC / DVB-S2 (290313)
7.3w ___12342V 27500 ___Panorama Action MOVIES...vpid 2026 apid 2027 ppid 2026 ..72%....... (0808012)
7.3w____12437v 27500 Email@ TV 72% vpid 1040 apid 1042 ppid 1040 68% higher strength
7.3w ___10776h 27500 TOP MOVIES vpid 1023 apid 1043 ppid 2023 70% lower strength

8w____11053H 22000 89% ..(300413)
_________incl
11w___11585h 7085 Radiocapri 1271 1531 1271 70%...(080812)
12.5w__11340h _2142_ Cancao Nova 0308 0256 0308________98%__97%__...(300413)
15w___11566h 5625 EurOpeSoAfrica_4377 4385 4377________76%__95%__...(300413)
15w___11531h 3196 MSNBC 0308 0256 8190 94% 97%.............................(300413)
18w......11054H 22000 ........................................(300413)
20w ___ feeds
22w___12673h 20250 ____________95%__97%_____........................(080812)
24.5w_11675v 27500_ NTA 3001 3011 3099_80%__86%_____.........(080812)
27.5w_11665v_13004__ch 5 feeds__________97%__97%_____.....(080812)
HISPASAT
30w____10729h 27500_ HIGH TV_2003 3003 2003__97%__97%__(080812)
34.5w__11508V 14257 (use dummy pids & meter only) DATA FEEDS________92%_97%__(080812)_
37.5w__11063v 2040 DOVE Vision 90% 92% ......................(080812)
45w___11607v 1852 RASDTV .V0512 A4112 P0513 ......... 11497v 7592 DATA FEED ----------------68% 75% (080812)
-----------------------------------------------------------------------------------------------------------------------------------------------------

58w___________feeds __
63w
68w

SEE ALSO >>>> C BAND RECEPTION IN THE UK

WELL KNOWN DIFFICULT SATELLITE FOOTPRINTS IN UK

BADR5 FOOTPRINTS @ 26e (see FRINGE RECEPTION CYCLES)

Pan Arab Mahgreb Central Asia


BADR6 FOOTPRINTS @ 26e (see FRINGE RECEPTION CYCLES)



KU BAND C BAND

AB-7 FOOTPRINTS @ 7.2w (see FRINGE RECEPTION CYCLES)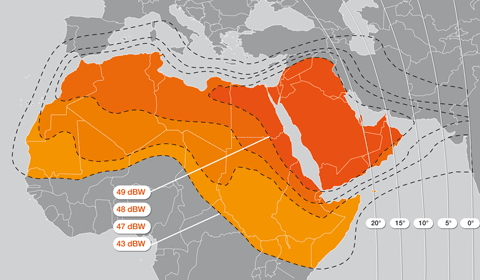 NILESAT 101 102 201 FOOTPRINTS (see FRINGE RECEPTION CYCLES)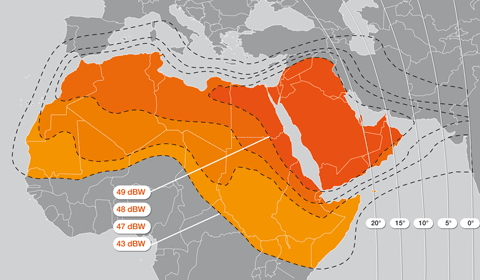 25.5e (see FRINGE RECEPTION CYCLES)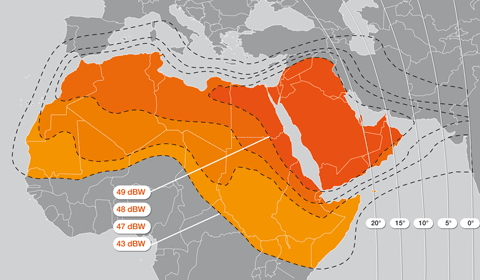 NEW MAP REQUIRED.

4W (see FRINGE RECEPTION CYCLES)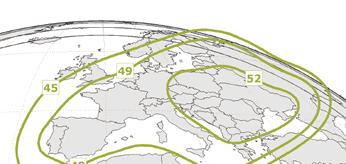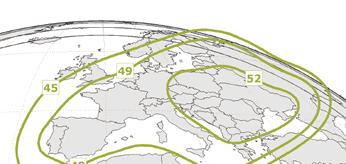 Europe AMOS 2 Europe AMOS 3

1W NORDIC BEAMS (see FRINGE RECEPTION CYCLES)


K2 requires update
1m+ UK


4.8e ASTRA 4a (SERIUS) NORDIC (see FRINGE RECEPTION CYCLES)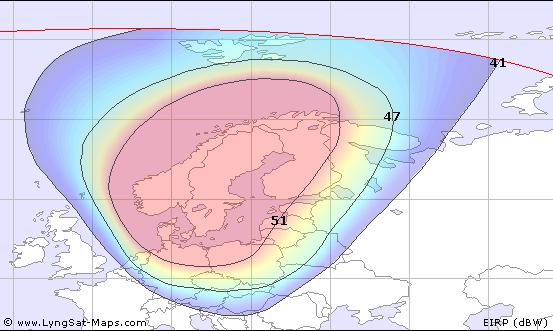 23.5e NORDIC 3AH BEAMS (see FRINGE RECEPTION CYCLES)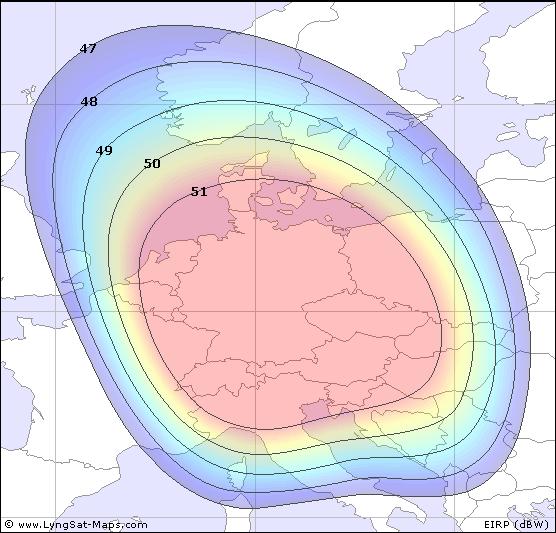 1.0m+ East MID UK 1.5m+ West UK


26e BADR4 BSS & MBC BEAMS (see FRINGE RECEPTION CYCLES)



BSS MBC
85cm plus in the South to Mid UK- better 90 -1m or 1.1m= 24/7

FREESAT 2F**BEAM AS RECEIVED IN SPAIN & OUTSIDE THE UK


** 2F replaced 1N which replaced 2D & has different characteristics to restrict BBC ITV etc. reception

-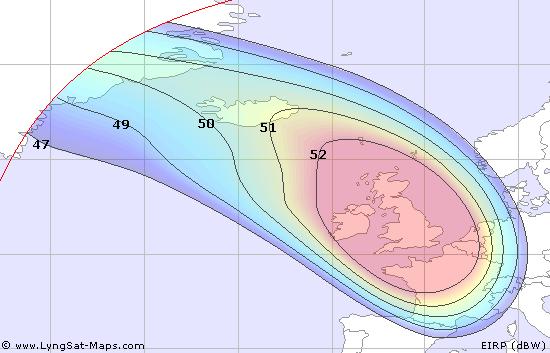 28.2e 2F**& FREESAT

RECEPTION IN SPAIN /EUROPE !>>

DISH SIZES FOR ASTRA 2F @ 28.2e ...ON THE FRINGE
FRANCE NORTH
FRANCE SOUTH

SPAIN NORTH
SPAIN SOUTH
SPAIN ALECANTE
SPAIN CANARIES

PORTUGAL NORTH
PORTUGAL SOUTH

ITALY NORTH
ITALY SOUTH
GERMANY

NORTH WEST EUROPE

OTHER AREAS

OLD 2D/ 1N DISH SIZES
Sky Z1 dish (N France) Z2 / 60 to 70-80cm (mid to S France) 80cm+ (Northern Spain) & generally 1.2m to 1.8m around Spain
except 2.4m in Alicante/Mercia region & inland towards Madrid suffering from a built up corridor area noise of industrial/ commercial & urban developments & between 2 airports - 1.8m in parts of Madrid. 3m- 3.6m+ on Canaries islands.

These figures are for 24hr reception (see FRINGE RECEPTION CYCLES below) including reasonable adverse weather conditions at reception site or up-link site/s & are based on good quality offset or prime focus** satellite dishes professionally & accurately installed, good cabling, sensitive LNBs & sensitive receivers. Any deviation in quality of install - particularly the dish's integrity can have a dramatic effect on these figures and local noise exposure or sheltering issues may alter these sizes in any given area as will the patchy/ irregular nature of fringe signals that are not usually a smooth decline from the main footprint but display peaks & troughs that can mean that several miles further away from the footprint and the signal can improve. **A prime focus dish will have an effect on intra satellite separation due to it's wider beam width & deeper noise sheltering of the LNB.




FRINGE RECEPTION

SIGNAL CYCLES


THEORY
Most satellites on fringe reception show a daily cycle of signal to noise increase & decrease and the main reason is the position of the sun.

On the old now removed Astra 2D** beam (mostly the UK's FREESAT channels) the signal goes up and down on a daily cycle as with most satellites in fringe areas outside their official FOOTPRINT. This is mainly due to the position of the Sun acting on the position on the Clarke belt of the satellite and the position & aim of the TX (re- transmitter) antenna on that satellite & whether the Earth & it's atmosphere & outer ionosphere are also shielding or deflecting the solar stream or not or it's position is assisting the solar stream to hit the Tx (this can be visualised with the path of a smoke trail in a wind tunnel and a spherical object representing the Earth).
The time & sun rise and sun set on the Earth on the ground is not the issue but the nearest equivalent of sun rise & sun set at 22000 miles over the equator at, in this case, 28.2e and the fact that sun set & night there is more of an eclipse or fowling of the solar stream towards the TX by the Earth & it's atmosphere / ionosphere plus shielding from the back of the satellite & the TX antenna.

ASTRA 2F @ 28.2e aims to the UK from 28e at 22000 miles above the equator (the Clarke belt or GSO) so as the sun rises the signal is better as it's behind the bulk of the satellite & the antenna so it's good early in the morning - add a couple of hours to the time for Spain that should see a good signal to about 10am until (@ 28e on the GSO) the sun passes it's noon and gets at the front - business side of the TX antenna- then it starts to go down as the sun travels more & more westward and has a more direct aim into the TX on the antenna and eventually starts to set (@28e on the GSO remember) that's about 2-3am Spain time when the Earth then starts to block some of the noise from the Sun. So smaller dishes than recommended will receive Freesat channels in Spain at the best times and the bigger dishes are needed for the worse times.

Lots of other things can effect the signal. The sun on the RX of the satellite has a smaller cyclical effect as RX's are more sheilded -ionized layer fluctuations from the moving position of the Sun's solar stream radiation direction & it's effect ionizing it, local noise from towns- industrial areas & heavy populated areas, overhead power & telephone lines, airport radars & radio communications, power supply fluctuations at the transmitter & receiver, battery power on the satellite compared to solar power and heat in the day compared to cooler nights on LNBs & receivers & transmitters & the effect of direct solar outage on the receiver's or transmitter's antennae can all have a daily cycle effect.

There are obviously other non daily cycle effects such as weather- rain, snow, cloud, fog, extremes of heat at the uplink or receiver site and fluctuations in solar radiation in general usually caused by solar flare increase.



7w NILESAT

101 102 & AB4A/ AB7/ EUTELSAT 7W A /

NILESAT 104

/ NILESAT 201 These rules apply to 7w reception in the UK (Nilesat 101 102 & AB4A / AB7/ EUTELSAT 7W A / NS 104/ NS 201) - but all the variables need altering to 7w to get the right result.... Firstly it's at 7w not 28e so there's a time shift (it's UK time or just after), it's a broad east aimed over the MENA region, not a tight west aim just around the UK as with 2D... so as the sun rises the signal goes down mid morning as the eastern rising sun aims into the eastern aiming MENA beam TX's @ 7w- by mid day (@ 7w & UK in this case) the sun gets behind the satellite & the TX so the signal starts to climb and gets stronger as the sun travels westward through the afternoon and evening and late at night & also goes behind the Earth so the best time for 7w in the UK is in late evening and through the night to early morning- the worst time being 11am -12noon.

26e BADR

4/5/6

26e on the other hand has very similar MENA beams to 7w yet the daily signal to noise up & down cycle is less pronounced due to 26e pointing almost directly down on the MENA region from 26e on the GSO this shielding it's TX from the sun more & more of the day but 7w's more eastern aim from over at 7w is more open to the sun's effect in the morning and is much more shielded later on by the back of the antenna, the bulk of the satellite & later on still by the Earth joining in.

Apply all these rules to any satellite & it's fringe reception cycle reports & the equation will give the cycle at fringe that is seen- examples are AMOS

4W

in the UK, 4.8e

Nordic beams

in the UK

,

1w

Nordic beams

in the UK, 23.5e

Nordic beams

in the UK,

16e

in the UK etc.. all act as predicted from the above variables.

EASY SATELLITES TO RECEIVE & WHY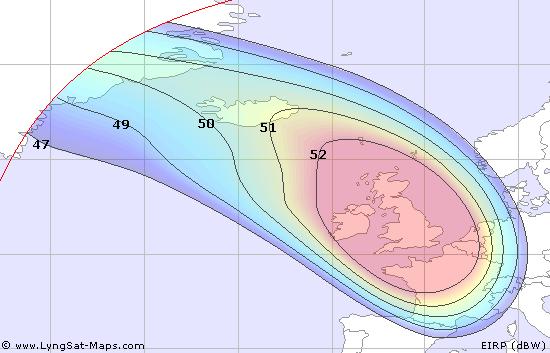 This is a typical EASY reception in the UK... as you can see the

signal is very strong in the UK

- this sample footprint also covers most of Northern &
Southern Europe- going into Russia in the East & North West Africa and the Canaries.

What to look for is satellites with good signals that goes into the UK on footprint maps for smaller dishes- (most are listed above as strong signals) and medium dish sizes (70-1.1m) will receive more that don't quite come into the UK and larger dishes (1.2- 3.6m) will receive signals from satellites with beams quite far away from the UK... but some you will not get - India beams- S & C Africa beams US beams S & C America beams - even though you can see them and they are not below the horizon... about 75e to 75w absolute maximum from where you are - more with height above see level and usually limited to 45e to 45w due to hills, trees, buildings & ground noise off the Earth.


Contact purplesat.com for any queries regarding satellite or aerial & HD/3D installations.
TEL: 01625 615379
TEL: 07931 846757
International TEL: 00 44 1625 615379