To a lot of people noise/ interference is too boring a subject but to us it's
a very BIG part of our job installing Satellite Systems. Knowing how
best to deal with interference/ noise is as important or more important
than dish sizes- get the noise down & you've got the dish size down.

It's a busy world out there for any RF engineers.

WELCOME TO OUR WORLD.





CONTENTS


SATELLITE INTERFERENCE OF KU C KA L BAND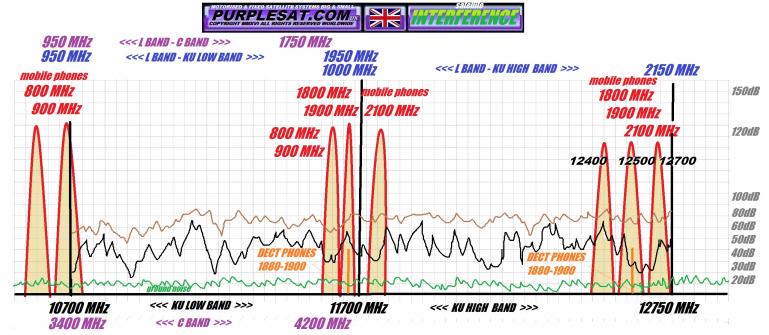 SATELLITE INTERFERENCE DIAG KU C KA L BAND
(The large peaks top & bottom of high & low band are an extreme example of being close to
mobile phone masts bleeding over the IF / L band (eg 800MHz 900MHz 1800MHz 1900MHz
2100MHz) plus their microwave links, but it can be much noisier than that & you need to know
how to deal with it)

INTERFERENCE FROM MOBILE PHONE MASTS/ DECT PHONES/ MICROWAVE
RELAYS- BACKHAUL POINT TO POINT / OH TELEPHONE CABLES/ ELECTRICITY
PYLONS OH CABLES / AIRPORTS / INDUSTRIAL AREAS /

INTERFERENCE / NOISE & ELECTRICAL LEAKAGE is a BIG subject - there may be
some 3rd party data that is not checked yet - this page is NOT live if you have stumbled
on it- purplesat does not warrant any information - although interference/ electrical
leakage problems are in many ways a true mystery with infinite harmonics & interactions.
This is to help remove some mysteries.

Interference is a bane & a big subject today & a growing one with the increase of wireless
use/ WIFI networks/ mobile phone (cell phone) network & coverage, increases in electrical
devices in the typical home, business or on the road.

Dealing with & conquering NOISE / INTERFERENCE & ELECTRICAL LEAKAGE faults is as
important or in many cases, more important than dish size & signal acquisition. Interference
can ruin a good installation causing good signals to break up or drop below break up level.

BACK TO TOP OF PAGE



SATELLITE SPECTRUM BANDS & IF L BAND USE

LNB TYPE INPUT FREQUENCY IF L.O. FREQUENCY
====================================================================
Ku band Universal Low Band .. 10700 MHz - 11700 MHz 950-1950MHz 9750MHz
Ku Band Universal High Band ... 11750 MHz - 12750 MHz 1100-2150MHz 10600MHz

Ku Band Wideband LNBs ...........10700 MHz - 12750 MHz 10700-12750MHz 10400MHz
UNITRON WIDEBAND LNBs
kU SKY Q.................................

SRC/ Unicable ..........................10700 MHz - 12750 MHz subject to tps being used

C Band standard ................... 3400 MHz - 4200 MHz 5150MHz
C Band Extended .................. - MHz - 4800 MHz

Ka Band

Ka Band uses theoretically ........ 12750 MHz - 40,000 MHz

Intermediate satellite frequency [if] LO
====================================================
L Band (IF) ku low band...H/V... 950 MHz - 1950 MHz 9750 MHz
L Band (IF) Ku High Band.H/V... 1100 MHz- 2150 MHz 10600 MHz

L Band (IF) Ku Wideband H/V ....290-300 MHz - 2340-2350 MHz 10400 10401 MHz

There are other non Universal Ku band lnbs with different LOs in use, mainly broadcast VSAT use.


L Band (IF) C band ...... 950 MHz - 1750 MHz
L Band (IF) Ext C Band . 1950 MHz - 2150 MHz

L Band (IF) Ka band ...... 950 MHz - 2150 MHz

The polarization of the suspected interference can also makes a difference - vertical interference will cause more interference on a vertical antennae & interference on a horizontally polarized antenna will be picked up more on horizontal antennae but at L band that is less of an issue as it's more about the circuits / tuners & cabling, however, don't discount a Ku Band antenna in a Ku waveguide as stopping the much wider L band entering the waveguide completely & being picked up on the antenna or bypassing it entirely & entering the LNB & dancing over the lnb's circuits- waveguides, cables / tuners etc.. An antenna/ wavewguide only attenuates a %, if the power from say a nearby mobile phone mast is very powerful- it can enter a smaller waveguide or just swamp the area, even professional satellite meters.

Almost all frequencies can cause interference/ noise / second/ 3rd harmonics etc. landing on cables/ components & causing adverse effects such as mal effecting a Local Oscillator etc.. but are not on any direct or secondary frequencies, although harmonics from them could be.


BACK TO TOP OF PAGE




Sources of interference.

Mobile phones / masts - public use. [see L band for actual clash frequencies]

Ku = look for spikes/ noise near //// 10700 MHz //////////11500 MHz //// 11600 MHz ///////12500 ///// MHz 12600 MHz

Ku Wideband lnb - look for spikes @ 11300 MHz 12300 MHz

C band = look for spikes @ 3400 MHz [ C band misses the high end spike]
Extended C band = look for spikes @ 4800 MHz

Ka Band = subject to the ka band lnb/ ka band is very large spanning from
about 17300MHz - [it's lowest usage today], to c. 40000MHz so it really depends which area
you are using. [Purplesat KA band more information HERE]

SPECTRUM ANALYSER OF NOISE INTERFERENCE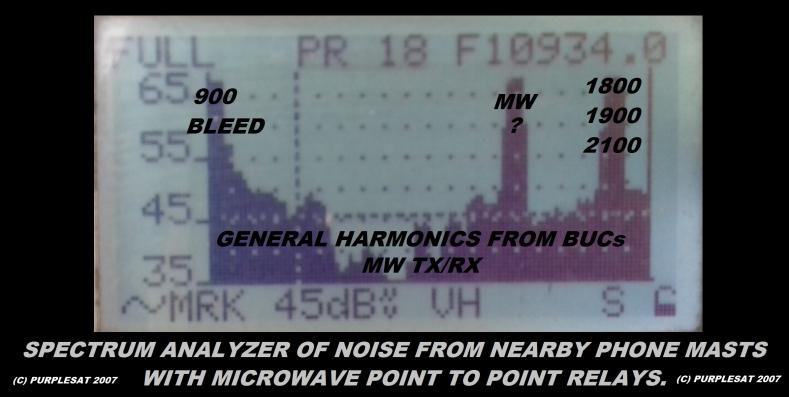 Spectrum Analyser connected to an L band antenna [not connected to an lnb]
on a noisy roof with mobile phone masts / MW BUCs Waveguides.
All the peaks large & small [up to about 75dBuV] are NOISE from nearby mobile phone masts /
MW tx / waverguide leakage bleeding over everything regardless of polarization & with Ku,
bleeds over both bands & penetrates brick walls [that's why it's used for mobile phones].

BACK TO TOP OF PAGE




THE UK RF SPECTRUM NEAR SATELLITE BANDS


/// JUST BELOW L BAND AND BLEED OVER ///

300-500MHz PLA
473.833- 657.833 DTT
694-790 MHz LTE 4G MOBILE PHONE USE use THE 700MHz BAND
800 MHz MOBILE PHONES @ 8w Near the low end of satellite's use of L Band (eg just 50 & 150MHz below L band's start = 950 MHz) look for spikes on a spectrum from bleed/ harmonics around 10700 MHz @ ku
800 - 900 MHz non licensed use [see bellow] BLUE TOOTH
802.11 WIFI 802.11ah
850
870-876 MHz smart meters & mesh networks - low restrictions
870-876 MHz opened up by Ofcom
868 MHz IoT-focused standards in unlicensed bands e.g. Neul Weightless and Sigfox UNB, and LoRa, with Neul also having an implementation for the TV white spaces
870-875.6 MHz band, the subject of a recent European initiative for potential wide area use, on a licensed or licence-exempt basis




////////////////////////////////// L-BAND-[IF] ////////////////////////////////////

900 MHz MOBILE PHONES @ 9w Near the low end of satellite's use of L Band (eg just 50 & 150MHz below L band's start = 950 MHz) look for spikes on a spectrum from bleed/ harmonics around 10700 MHz @ ku
900 MHz Bluetooth, ZigBee, Z-Wave, Thread, 6LoWPAN, in various unlicensed bands
900 MHz Wireless LAN – Wi-Fi in 60 GHz, 5 GHz, 2.4 GHz and 900 MHz
900 MHz Legacy cellular – M2M applications run on GSM, 3G and LTE. One cellular option discussed by some operators is to retain some GSM capacity in the licensed 900 MHz spectrum specifically for IoT [Internet of things ] , since GSM has many of the characteristics required for these connections (though is less power efficient than, for instance, UNB)
915-921 MHz opened up by Ofcom
950 Mhz START OF SATELLITE'S IF L BAND
1000-4800 MHz Microwave links
1176.45 MHz (L5) Global Positioning System carriers
1227.60 MHz (L2) Global Positioning System carriers
1381.05 MHz (L3) Global Positioning System carriers
1575.42 MHz (L1) Global Positioning System carriers
1217.6-1237.6 MHz METSAT = MET OFFICE GPS water vapour sensing
1565.42-1585.42 MHz METSAT GPS water vapour sensing
1690-1710 MHz METSAT
1400-1427 MHz METSAT
1500 MHz data intensive smart grid, security and point-to-multipoint applications (10 MHz)  Public microwave and satellite bands 1.500 MHz -58 GHz for access to utilities' core fibre network or strategic resilient backhaul
1677-1685 MHz MOD
1790-1798 MHz MOD
1800 MHz 1900 MHz 2100 MHz 9w 10w Actually IN the L band used by satellite IF eg look for spikes around
1880-1900MHz DECT PHONES
1800-2400 MHz noise off some DECT phones
2025 – 2110 MHz space research, EESS & space operation services
2200 – 2300 MHz space research, EESS & space operation services
2302-2310 MHz [L],
2400 MHz 2.4 WIFI
2400-2450 MHz BLUETOOTH

2600 MHz high 4G is well above 2150 MHz but there may be harmonics/ bleed over associated with 2600 MHz




///////////////////////////////////// C-BAND ///////////////////////////////////////

3442-3475 MHz, MOD

3000 - 4500 MHz GROUND BASED COMS- MICROWAVE POINT TO POINT / precision narrow beam dishes etc.

5600 MHz 5.6 WIFI

8400-8460 MHz, MOD




/////////////////////////////////// K,u-BAND /////////////////////////////////////

10.25-10.27 GHz,
10.36-10.4 GHz [ku],
11600-11800 MOD




/////////////////////////////////// K,a-BAND /////////////////////////////////////

24.05-24.15 GHz [ka] MOD


BACK TO TOP OF PAGE




MORE DETAILS ON DIFFERENT SPECTRUM USE.


POWER LINE ADAPTERS / AKA POWER PLUGS/ 3-500kHz & NON UK 800MHz
At 300MHz-500kHz, there's no obvious direct interference route, but with many things we've
seen issues on sites where some interaction does happen so there can be possible harmonics/
interactions with other frequencies, digital data frequencies- harmonics/ interference landing on
different parts of circuit boards eg LO / tuner interactions etc..
PLA - NON UK may be using 800MHz

WIFI 802.11ah

WIFI 2400MHz 5.600MHz
Not direct interference but WFI can produce secondary harmonics/ bleed that can effect satellite
reception.

Bluetooth 2.4-2.4500MHz
Not direct interference but WIFI can produce secondary harmonics/ bleed that
can effect satellite reception.
2.4-2.45000MHz


DECT PHONES

1880-1900MHz
Dect Phones are in the middle of satellite's IF / L band @ 1880-1900MHz so there's the potential for interference there. It's less likely to enter the waveguide in the lnb simply because most dishes face away from the property the DECT phone would be in, the waveguide itself acts as a filter for the much longer wavelengths of L band & the feedhorn/ scala ring design & relationship with the satellite all help to shield the lnb & limit any effect. Poor cabling &/or placing a DECT phone too near satellite cables &/or satellite receiver is more important. Make sure all cables & connectors are all of good quality & move DECT phones away from Satellite receivers.
1800-2400MHz Spurious output [NOISE] from some DECT phones when off hook- being used!- some can be very messy/ noisy at the top end of L band used for the IF, with their low power, proximity makes a big difference.


L band check for spikes/ noise 1880 to 1900MHz or Ku equivalents

C band, check for spikes/ noise on extended C band as DECT phones miss normal C band

As always, good cables, connectors & good cabling practices are the first defence- moving DECT phones away from equipment as important. Test while the handset is in the charger/ base station, then off hook & then make a call - you should see noise levels jump considerably.

C BAND USED ON GROUND BASED COMS.
This is why C band power is held 10dBW below Ku band power as C band is used for ground based communications, otherwise we could all be using more C band @ 50dBW which could be used on smaller dishes & sustain rain far better than Ku.

MICROWAVE RADIO LINKS & UK-BB USAGE
GROUND BASED- NARROW BEAM POINT TO POINT /MW RELAY/ BACKHAUL including MOBILE PHONE MW links.
900MHz - 4200MHz to 100GHz [L BAND TO C BAND TO E BAND ]

700 MHz LTE/ 4G use of old analogue TV frequencies- some possibility of bleed over to 950MHz L band as the propagation is more general.

1427-1452 MHz
2000 HHz MSS


2300MHz

3410-3480 MHz tba BB USE ON GROUND?
3400MHz
3480-3500 MHz UKBB
3500MHz In the UK, TDD-LTE roll-out is in 3.5 GHz, by UK Broadband,
3500-3580 MHz
3580-3600 MHz UKBB
3600-3800MHz

E BAND - 60GHz - 100GHz, is not considered a direct interference issue as it's too far away frequency wise, but there's still Avoid proximity & power to consider, there are always secondary & spurious harmonics associated with any generation of RF that could interact in different ways eg. landing on a circuit's filters causing otherwise blocked frequencies to make it through the filter better (see high frequency AC & it's characteristics for an example of that) or altering the behaviour of local oscillators or IC's circuits etc.


TV TOWER TRANSMITTERS & REPEATERS
Generally, these are lower frequencies but being too close to a transmitter can still cause no go areas with the transmitters swamping immediate areas with spurious / bleed over etc. and these are much closer than 60GHz.

BACK TO TOP OF PAGE
OVERHEAD TELEPHONE LINES [UNSCREENED]
The UK's network of unscreened overhead telephone lines now carry increasing amounts of digital traffic which causes interference to satellite dishes aiming through them. BT should have been instructed to screen cables before adding digital traffic, but they were not & did not as it was cheaper just to send digital traffic on the unscreened cables & just ensure Freesat/ sky reception is mostly unaffected but not weaker satellite reception around Europe or the ME etc. where we have to negotiate round the problems, especially very near cables & multiple cables going to a telegraph pole.


OVERHEAD ELECTRICITY POWER LINES & PYLONS
Although there is a lot of power, most think the fact that the frequency of AC is 50Hz & a long way away from any frequencies we use.

ELECTRICITY SUB STATIONS/ DROP DOWN TRANSFORMERS/ COILS etc.
Coils & transformers do cause interference to satellite systems although still at 50Hz.

AIRPORTS
Airports are a concentration of interference on many levels due to the increased use of radio communications and radar & also cover very large areas. Installing satellite dishes to the north of a large airport usually adds to the noise floor & random interference 'events'.

MARINAS

Many similar problems exist as per airports although generally less so & in either case, the size of the Marina or Airport makes a difference obviously.

CITY TOWN & INDUSTRIAL / COMMERCIAL AREAS
City / Town & industrial / commercial areas are generally higher in noise/ interference & you can run into really high interference or be in the way of a narrow beam microwave link, but sometimes the noise is low such as facing over a heavy wooded area in a park / reserve.

COUNTRY / RURAL AREAS
Country/ rural areas are usually lower in interference issues & we have had some amazing results getting much better results on weaker satellites.
However, overhead telephone wires in rural areas can carry far more digital traffic / internet etc. because of the lack of cable & fibre internet.
Older mains supplies daisy chaining properties do look like they should be an issue but rarely cause a problem even under heavy load but local drop down transformers/ coils can.

HEAVY ROAD TRAFFIC AREAS
A satellite dish too close to a motorway or busy road will suffer higher interference, mostly we think, from passing mobile phones, especially if active. Other issues from coils/ sparkplugs etc. can also cause issues although these have been dealt with to minimise their effect, if possible avoid.


WARPED DISH
Warped dishes will cause increased noise as well as lower signals allowing more available noise in. In a quiet area the difference is less significant.

ELECTRIC MOTORS
Electric motors/ air condition units, pumps, etc.. can add noise.

OVERLOAD LNB / TUNER

Large dishes x sensitive tuners x sensitive x high amplification used on strong satellites can cause overload & excessive harmonics, usually the stronger transponders can overloads weaker transponders. A solution to this can be to attenuate by moving the dish off satellite.

BACK TO TOP OF PAGE
SOLAR / SUN INTERFERENCE
The sun does effect satellite on dishes on the ground & antennae in space on satellites on the GSO.

ON THE GROUND
If the sun lines up with the satellite the dish is aimed at it will add to noise & if the signal from that satellite is lower than a certain threshold level, it will cause outage for a few minutes to up to 20 minutes.

IN SPACE ON THE SATELLITES
In space, there is a daily cycle of effect from the sun on satellites on the GSO, more east or west aiming satellites show the [up & down] cycle more as their antennae are more exposed, antennae that aim more north or south or aim down from the GSO are less effected as they are more sheltered from the flow of the solar stream.


DELIBERATE INTERFERENCE

GROUND TO GROUND DELIBERATE INTERFERENCE

GROUND TO SPACE DELIBERATE INTERFERENCE
BACK TO TOP OF PAGE




// UK FREQUENCY MAPS V SATELLITE USAGE //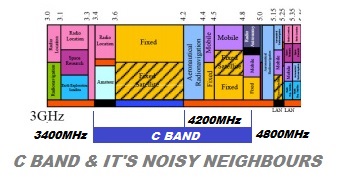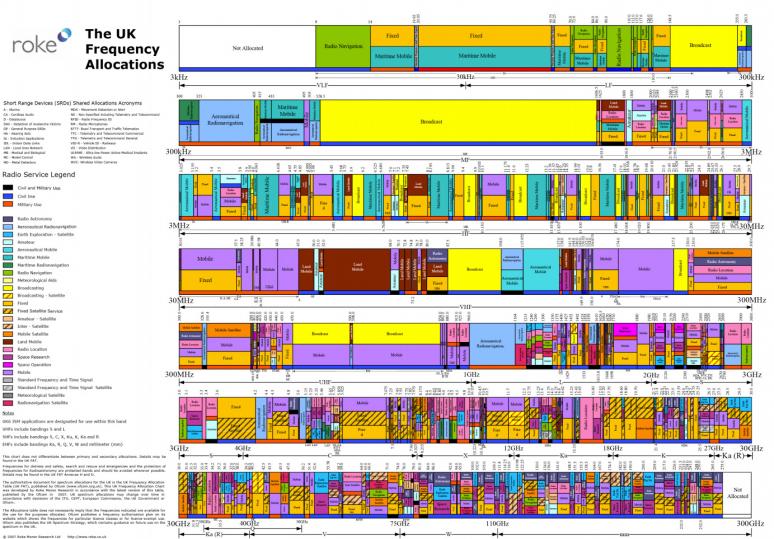 TECHNIQUES TO DEAL WITH INTERFERENCE
There are many techniques to help to deal with interference problems-
here's a basic list.

SURVEYS - AVOID NOISE IN THE 1ST PLACE
The best by far is the initial survey avoiding high noise areas & locations, especially mobile phone masts / any transmitters, microwave links etc.. before installation or giving this advice, unfortunately on many occasions you are not there when the location was chosen.
FEEDHORNS/ SCALA RINGS
These are the first line of defence against interference from outside the edge if the satellite dish & in high noise areas you can increase their shielding effect losing some signal in a trade off for far more noise reduction.
WAVEGUIDE FILTERING
Waveguides are the second line of defence against noise (below) the frequency you are using [longer wavelengths] but do not filter frequencies above with shorter wavelengths. They can also be reduced to alter the lowest frequency they are optimised for reducing noise lower down & used to filter/ attenuate one polarization to favour the other.
PCB FILTERS GENERAL


These are built in to the lnb & tuner circuits to filter the incoming satellite signal & the IF down converted signal. A typical PCB filter consists of basically a gap for the rf to jump leaving unwanted rf behind that cannot jump the optimised gap. They usually consist of several in parallel eg: a comb or ladder filter to optimise the effect while reducing loss. Such filter can be altered / increased / decreased over certain wanted / unwanted frequencies in custom work.


PCB BASED NOTCH FILTERS


Such filters are designed for single frequency attenuating out of the band in use.

SHIFTING THE IF L.O.


This can be used selectively if heavy interference is being encountered at certain points within the used frequencies if the interference is IF/ L band based moving the LO so the IF shifts the required frequency out of the interference area such as mobile phone mast noise at 950 1800 1900 2100.

SHIELDING TECHNIQUES


A favourite on site technique & can be very successful. Trees are one of the best natural shields with their water content, especially at Ku band (microwave) & can give some excellent results. They absorb microwave energy in their water the same way microwave ovens heat water molecules. Metal does block higher & lower frequencies such as mobile phone rf at 800-900 1800 1900 2100 as they can go through brick walls but not metal, however, metal creates unwanted reflections that can reflect other unwanted noise in the lnb, so some thought should be given to this aspect as far as diffusion &/or RF/ MW absorption.

BACK TO TOP OF PAGE



EXTERNAL REFERENCES FOR INTERFERENCE

ELECTRICAL FAULTS THAT EFFECT SATELLITE
Faulty or poorly made Power Supplies- [particularly SMPSUs] can
interfere with satellite systems.
Faults on any inter-connected electrical equipment that tracks
voltages over satellite cables.... Monitors/ TVs / net gear/ computers...
anything that is linked in in any manor.
If you detect a voltage with a test meter [or get a shock] [& usually it's AC or** responds on a meter set to AC] on low voltage cables such as satellite coax inner core or outer / aerial coax/ cable provider coax / any AV leads or internet/ Ethernet leads etc.. usually up to 120vAC & usually between an earth/ chassis ground or between inner core & outer screening....

STOP USING THE EQUIPMENT UNTIL YOU'VE TRACED THE FAULT!
This can cause interference like symptoms on good signals - such faults have become extremely common with the rise of the number of electrical devices in a typical property or business & the lack of an earth & many devices (TVs/ Satellite receivers etc..) seem to work OK as faults float without an earth-

but the electrical fault should not be there & can & will cause more interference or damage & even a fire.
The voltage may show as 40VAC 60VAC 100VAC 120VAC etc.. but the frequency may be not 50Hz but much higher. SMPSUs create a lot of unwanted high frequency energy that can migrate to/ from AC/RF - high frequency AC can cause interference at different frequencies depending on it's frequency- a certain range of high frequency AC can also act as a bridge for higher power over otherwise acceptable circuit / contact separation.


To trace this one, remove each connected device at a time, even if in another part of the property if they share any cabling such as an LNB or aerial distribution system or wired LAN & check if the fault has gone.
We advise you fully replace either a device or at least it's whole power supply & not entertain part repairs such as capacitors.
Incompatibility of electrical devices.
Some especially older devices may not be 100% compatible with today;s designs such as old TVs with half mains chassis etc.. these also cause similar issues
If an electrical device (TV STB etc.) is old &/or faulty, get it checked out properly & consider retiring it rather than repairing it.
Avoid cheap electrical goods such as cheap TVs, SAT, FV or IPTV boxes with even cheaper PSUs. They usually don't last & when they do go, you risk zapping your newer/ more expensive equipment.
Don't keep using old Sky boxes or old CRT TVs & VCRs, they are the main culprits for electrical faults.

If you measure over 400VAC - that usually means it's a fault crossing two or more propperties & 2 phases & obvoiusly needs tracing.
This information is supplied by purplesat from years of experience, however, purplesat cannot be held responsible for any errors or outcomes whatsoever. If in doubt, seek the help of a professional. You should always do wide research from several sources for any issues, issues change over time with paricularly the introduction of new technology as do regulations.
BACK TO TOP OF PAGE

CLICK HERE FOR INCLINED ORBIT & TWIN AXIS MOTORISED SATELLITE SYSTEMS
BIG DISH Satellite TV Installations.
UK, Europe, N Africa & Off Shore Satellite Installations.
VSAT, COMS Satellite installations.





BACK TO TOP OF PAGE