HOW TO GET MUCH MORE OUT OF THE....



* HIDDEN MENUS * TRICKS * EDITING * BROADCAST FEEDS *
(Also applies to most Technomates)
IF YOU FIND INFORMATION USEFULL ON PURPLESAT.COM DON'T FORGET TO CREDIT IT & LINK TO www.purplesat.com
-----------------------------------------------------------------------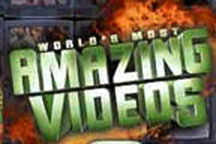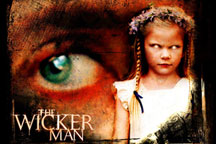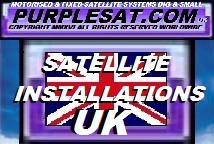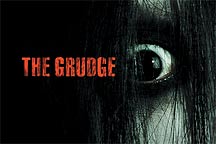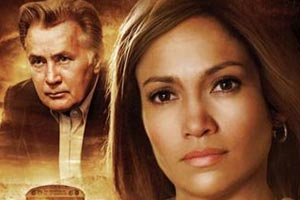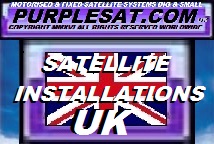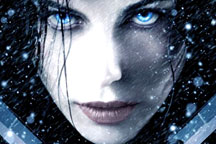 CONTENTS

*EASY START*


1) BACKING UP & RESTORING.
BACKING UP TO USB
RESTORING >> A TM5402HD IN MINUTES!
LOADING PATCHES & ADDONS & PLUG-INS

2) 7 DAY EPG
HOW TO ACCESS THE UK'S 7 DAY EPG

3) DOWNLOADS
LATEST CHANNEL LISTS (FIXED /MULTI LNB & MOTORISED)
LATEST PHANTOMPATCHES -& ADDON FILES fast link>>
LATEST PURPLEPATCHES & PLUG-INS -SKINS- etc.
OTHER DOWNLOADS
THE NEW HIDDEN MENUS

4) USING USB HDDs & USB FLASH MEMORY
USB FLASH DRIVES
USB HDDs
DOES & DON'TS - USB DRIVES
TROUBLE SHOOTING

5) RECORDING VIDEO & EDITING/ TRANSFERING
PAUSE LIVE TV -RW<<>>FF PLAY TIMESHIFT (see also auto timeshift)
MAKING RECORDINGS
TRIPLE RECORD SD, HD & RADIO
EDITING VIDEOS & AUDIO ON THE TM5402
EDITING VIDEOS & AUDIO ON A PC
PLAYING AVI DIVx files
AUTO TIMESHIFT (see also PAUSE LIVE TV)
REPLAYING RECORDINGS &/OR STREAMING WHILE RECORDING.

6) MOTOR USAGE
TIPS
USALS
DISEQC 1.2
36v MOTOR CONTROL

7) EDITING CHANNELS / SATELLITES
EDITING CHANNELS
EDITING FAVOURITES
EDITING SATELLITES/ ADDING FREQUENCIES /CHANNELs
ADDING SINGLE CHANNELS
EDITING USING A PC EDITOR -
TECHNOMATE EDITOR
CLARKETECH EDITOR

8) STREAMING
ACCESSING DRIVES ON A NETWORK
YOU TUBE
NET RADIO
ADULT STREAMS
other NET features
GOOGLE EARTH
WEATHER REPORTS

9) USING CARDS & CAMS IN THE TM5402
USING A SKY UK CARD IN A TM5402HD (LEGITIMATE USE ONLY)
TRING CARDS
JSC CARDS

10a) ***** BROADCAST FEEDS ****<shortcut>
HOW TO SCAN IN BROADCAST FEEDS FOR LIVE FOOTBALL/ SPORTS/ CONCERTS ETC..
VIEWING 4:2:2 BROADCAST FEEDS
adding feeds- Linux receivers.

10b) USING LJ's - LIVEONSAT.COM
WHAT CHANNEL / SATELLITE IS THE MATCH ON?
FOOTBALL FIXTURE LISTS & OTHER SPORTS

11) BUG REPORTS

12) WISH LIST

13) OTHER TIPS
_________________________________
References/ Links....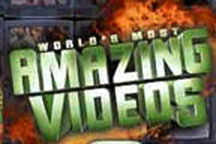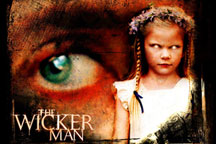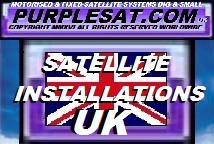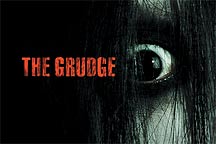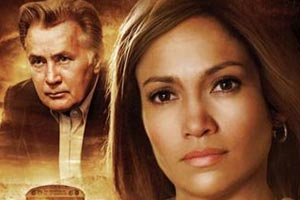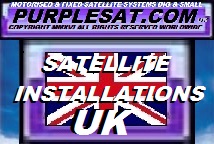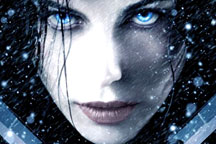 THE



EXTRAS!
*EASY START*

With a professionally installed & fully setup motorised satellite system- PRESS OK to list the channels & press up or down to step through the channels or side buttons to jump 10 channels a time & press OK to choose a channel- PRESS SAT to bring up a list of all satellites -move up & down to step through the satellites & PRESS OK to choose another satellite. That is all that is required to get at all TV channels. Alternatively PRESS FAV to bring up pre programmed favourites & use those to choose channels. Pressing TV/RAD switches to radio channels & back to TV channels. Pressing pause evokes pause live tv. Pressing record starts recording & pressing stop to stop recording ( with a recommended usb drive). Avoid editing settings etc. until you are familiar with using the receiver - motor settings should not be altered.


1) BACKING UP & RESTORING

1a) BACKING UP

Always backup your TM5402HD from new & regularly - it takes seconds.

With a suitable USB FLASH DRIVE fitted or HDD, press MENU >> USB >> DATA TRANSFER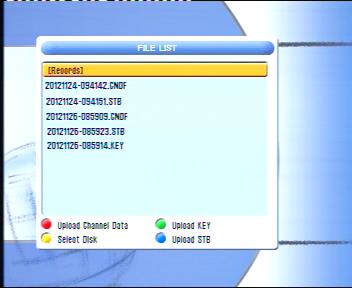 PRESS RED BUTTON TO BACK UP Channels - Favourites - Satellites - Frequencies in one file - this will store a small file named by date & time & with the extension .CNDF (This can also be used on certain other receivers)

PRESS BLUE BUTTON to back up the receiver's software- this will be saved as above but with the file extension .STB.

You can also back up other features shown on menus

At the same time you should make a note of your LONGITUDE & LATITUDE because you may need to re-enter these.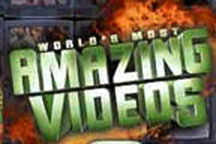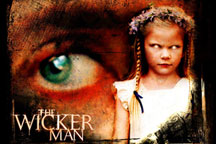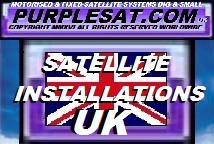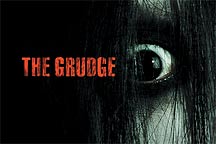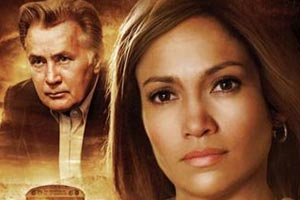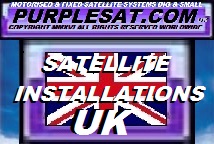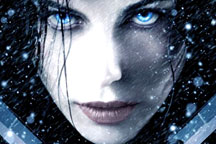 1b) RESTORING BACKUPS & LOADING PATCHES

With a suitable USB FLASH DRIVE fitted or HDD, press MENU >> USB >> DATA TRANSFER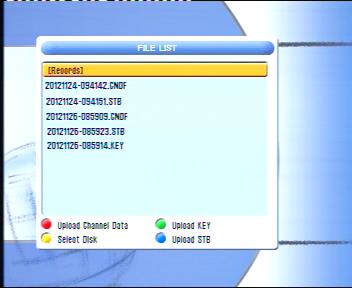 Find the file you want to restore (as above) on the USB drive & click on it-

Restoring a .stb file or loading a new patch may reset the receiver or addon file - this is normal.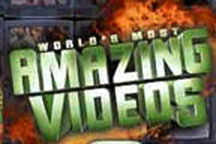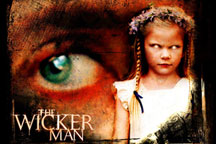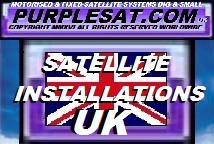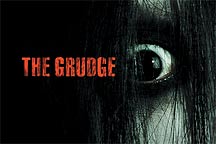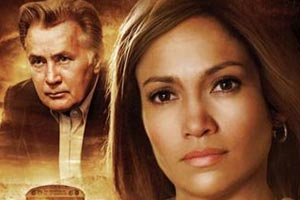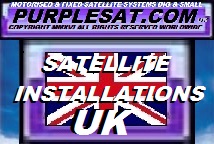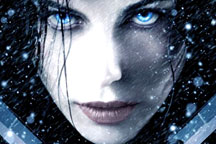 2) 7 DAY EPG now even faster

To get 7 day EPG drive to ASTRA2 / 28.2e- press the EPG button & click on the 1st channel >> the EPG UPDATE CHANNEL- the Sky/ Freesat 7 DAY EPG will update in about 20 seconds & lasts a week-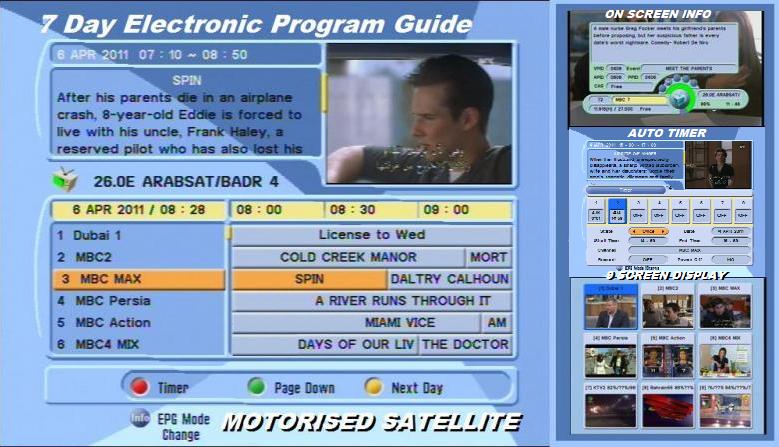 If the synopsis is blank- click on from EPG screen - not all broadcasters pay for the 7 day EPG but they are usually still served by now & next EPG.

The TM5402HD has in built EPG- Electronic Program Guide that works as now & next on Astra 2 (UK Freesat & Sky UK channels) & gives several days to 7 epg on many other channels on other satellites automatically such as 26e/ 7w .. Dubai One & the MBC & Fox Movie channels etc

Some providers/ broadcasters may require you to click on a channel in the group on the EPG screen in order for all channels in the group to populate with their EPGs....

Some broadcasters do not provide an EPG - some do provide more extensive online EPG's & some use more extensive on screen menus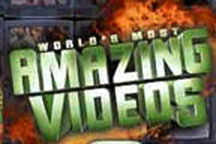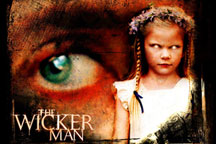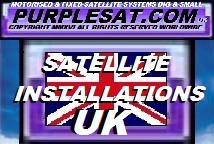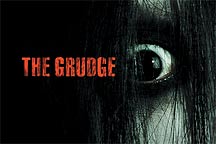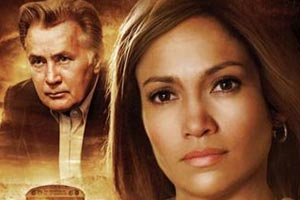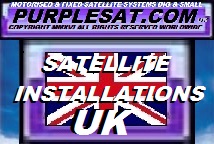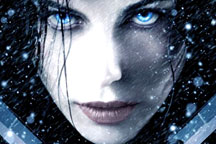 ***************************************************************
3) DOWNLOADS

TM5402HD Manual in pdf << click here

3a) CHANNEL LISTS UPDATES

FOR TM5402HD - ALSO LOAD INTO SEVERAL OTHER RECEIVERS (various HD Technomates/ Clarketechs/ Blades etc.. that use .cndf)
AS ALWAYS >>> BACK UP YOUR EXISTING CHANNELS 1ST.

TM5402HD - CNDF CHANNEL LIST 02/11/12
75e to 75w ............latest BBC changes on 28e -

TM5402HD - cndf channel list 121212
new channels/ edit & update.

TM5402HD - CNDF CHANNEL LIST 161212 LATEST
75e to 75w ........2F CHANGES PLUS EUROSPORT 1-2 UPDATES

TM5402HD - CNDF CHANNEL LIST 100213
75e to 75w ...........New Movie channel NEW STYLE TV/ Studio1 & Qatar TV on 7.3w plus 21.6e - new Majestic Cinema movies & several others on 21.6e (21.5e) plus latest football changes plus changes in favourites (all can be edited quickly to suite).

TM5402HD- & M2 Channel LIST -150313
Latest channel updates - most of west side updated & unused TP kull
21.5e - New easier to receive HD TV & Top Movies inc' 2012 release Movies + new T.Sports channel-
New I-Film Arab movies so badly dubbed in English it's a laugh plus several other channels added.
7.3w reorganised
19.2e new sports line up - especially for Formula 1
1w - reorganised
23.5e reorganised
10e reorganised
28e updated
20w added new satellite position - feeds etc..

TM5402HD & M2 Channel - SAT & FAV List - 210313
NEW AD SPORTS 1 2 Extra & AD Sports 1HD 2HD & Extra HD (for F1 HD etc..) @ 7.3w added
some FAV's (favourites) added/ updated

TM5402HD Super & TM5402HD M2 Channel Lists - SATs & FAVs - 060513a- ZIP
New Movie Channels & Sports channels updates on 7.3w- 21.5e - 26e - 10e -
57e 60e 62e 66e 68.5e strongest channels/TPs updates.
New Small motorised Dish Favourites option (39cm 45cm- 64cm - 74cm [on area measure]).
***********************************************************

From 75e to 75w with 52.5e/ 53e 0.8w & 1w 7w & 7.3w 3.1e & c band 52.5e & 53e & in correct sat order & 2e 4e 40e 43w & 7.8w removed.
Download to PC - unzip - transfer to USB - insert in TM5402HD - MENU / USB/ DATA TRANSFER /// & back up channels/ keys & stb sw first - (so you can go back to the old one if you prefer yours).
Then click on the new channel list
***************************************
EDITING USING A PC EDITOR to edit satellites/ tps/ channels/ favourites-

CLARKE-TECH EDITOR see section 7

3b) FW - PATCHES & ADDONS UPDATES.

The genuine fw/software is down-loadable from Technomate downloads>> HERE & repeat the instructions below for phantompaches but without the addon file- (will not have some of the extra features) MENU SYSTEM SETTINGS IP SETTINGS & PRESS BLUE BUTTON.

Download the latest TM5402H Phantompatches <<<< HERE & the addon file,
(May invalidate warranty/ use at your own risk/ always back up 1st !/- we do not support or condone any improper use.)

How to load a new patch
Check the receiver Software version you have, it is shown in MENU >> System Information - if it has a p after it - it's a Phantompatch- if not it should be the original Technomate (see below for updates of the original software).
With your USB flash drive (or HDD) in the TM5402HD always back up the TM5402HD first
Click on above Phantompatches link & download the latest [or preferred] version & the Addon file (Addon_02 or newer if there is one).
un zip if needed on the PC
Insert your USB drive back in the laptop
Copy the Phantompatch & addon file to the USB pen.
Put your USB pen back in the receiver.

Press MENU ...>>> ..go down to ...>>>.. USB ...>>> & over to >>> .. Data Transfer .. & press OK to enter the menu
look for the file .... Phantompatch-TM5402HDCI_xx_xx_xx (xx= date etc)

ready? (scared?- don't be afraid - don't be very afraid... but if you brick it - it can be outside the guarantee- proceed at your own risk)

click OK on it & leave it & do not switch off & hope there's not a power cut
It will take a while showing you a progress bar & then go off & reboot the receiver.
(If you haven't loaded the Addon_02 file previously & this is the first patching you now need to repeat the above & click on the Addon-02 file if you want that too-it will load faster & reboot the same)
& that's it ...


3c) THE NEW HIDDEN MENUs

Technomate TM5402HD Hidden Menus PLUS LATEST PHANTOMPATCH
MENU 1 ...................Type 8281 on any screen..../ then PASSWORD.....................
MENU 2 ...................Type 8280 on a screen ............................ or Go to System Information = 2 new menus- RIGHT MENU.
MENU 3 ....................Press MUTE THEN EXIT on any screen or Go to System Information = 2 new menus- LEFT MENU.
SWITCH OFF PATCH, go into System Information Menu type 2004 (repeating turns it back on).
Remove zoom box - press zoom & zoom to area - press UHF then exit = no zoom box.
STREAMS ................ Type 1149 on the Entertainment menu = 2 new buttons = adult streaming pin protected- (repeat to remove).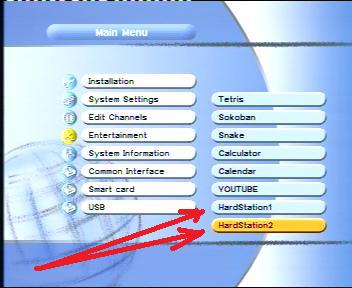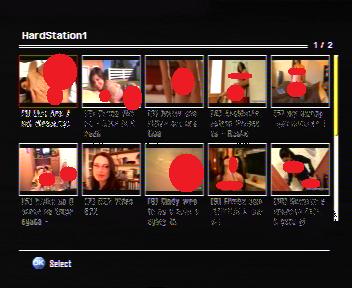 3d) F1 F2 F3 F4 F5 RED GREEN YELLOW BLUE keys - special uses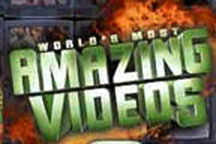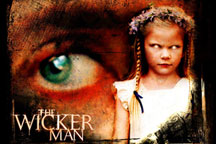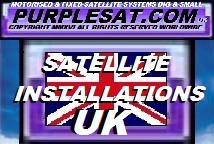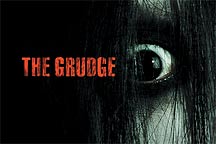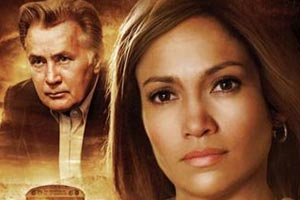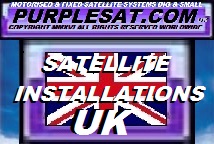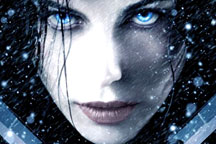 4) USING USB HDDs & FLASH MEMORY

4a) USB FLASH DRIVES

For basic data save/ backup & some basic PVR use. (see high speed 10Mb/s/ 20Mb/s - 25Mb/s or much faster USB HDD rates (100Mb/s- 120Mb/s)

We have tested & recommend the following but production batch speeds may vary.
Patriot RAGE QUAD USB Flash Drives- (quoted up to 25MB/s write speeds - tm5402hd tested Read/Write = 20MB/s Write = 42MB/s Read = 38MB/s)
or
SanDisk Cruzer Blade USB Flash Drives- (tm5402hd tested Read/Write = 20MB/s Write = 42MB/s Read = 38MB/s)
PLUG & PLAY - NO NEED TO FORMAT!
These are for basic data saving/ loading & limited pvr use- especially HD pvr use & you should try to make sure write & read speeds are capable of the recording you wish to do- most will record the highest bit rates SD up to 3 channels at once & single HD/3D recordings plus the TM5402 can also play back/ pause- rewind/ff live tv or stream at the same time.

Better ones can record HD at higher bit rates but for serious PVR use you should use a HDD with much higher write / read rates & for routine triple recording of high bit rate HD / 3D choose the best rated HDD/s.


Every 4Gb can store between 1 1/2 to 4 hours of SD depending on broadcast quality (the better quality - the shorter the available) & between 1/2 & 1 hr HD - some still picture flick screen channels may exceed these record time figures & a few very high broadcast HD channels reduce the end resul.

Data write & read figures vary from manufacture & within their model versions. Sandisk Cruzer Blade 16Mb are basic but capable of triple SD & single HD recording & all data transfer.

Ultra & Extreme Sandisk versions that claim 10-20Mb/s write speeds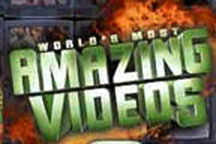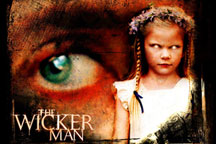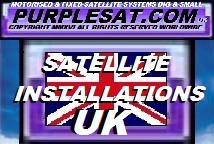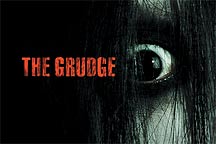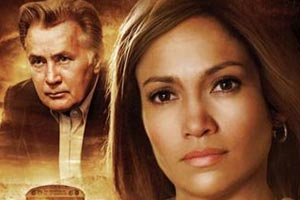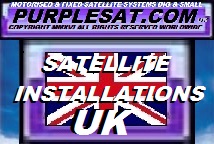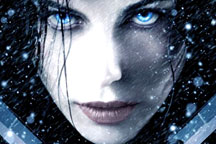 4b) USING USB HDDs

For PVR use.

We recommend self powered Western Digital Passport HDDs These are rated over 56Mb/s write capable & over 70Mb/s read capable- you can find much higher & lower. (tm5402hd tested Read/Write = 20MB/s Write = 43MB/s Read = 37MB/s)


Tested here up to 1tb but may allow larger, format in the TM5402HD in seconds & are ready to use in minutes from plugging in & seem to work flawlessly on triple SD recordings - single HD/3D recordings - pause- FF-Rewind live TV / replay recordings or stream at the same time.

These may record 2 or 3 HD channels at once without fault depending on bit rates, eg. BBC HD bit rates are c. 9Mb/s but some HD channels can be as high as 23Mb/s or higher & it also depends on how much bandwidth is being used on the 2 or 3 HD channels being recorded - more colours & shades & more / faster movement will increase bandwidths over all recordings & shared bit rate TPs will alter other channels to share the high load times- low colour- shade- movement will reduce overall bandwidths used & triple HD will be easier.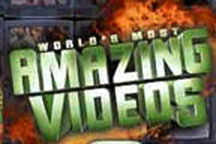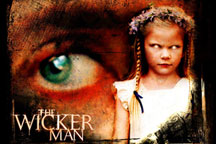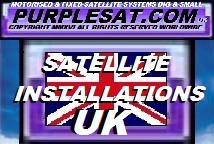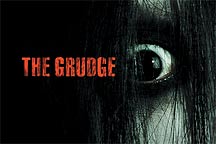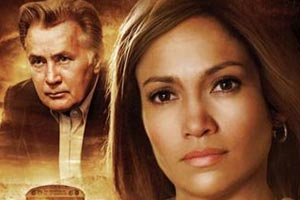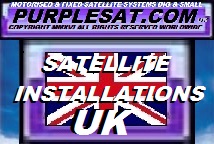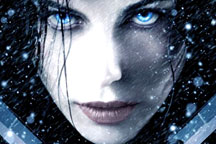 4c) DOES & DON'TS FOR USB HDDs & FLASH DRIVES

Do not format USB FLASH DRIVES if they are already plug & play - they also can contain files/ programs for use on a PC & network.

Avoid cheap usb flash drive - always try to use good quality brands & fast write speeds.
Avoid cheap unbranded usb hdd interfaces (USB tiy SATA or USB to IDE etc.).
Avoid cheap usb hubs- we haven't tested enough brands yet.
Avoid powered hdds
Avoid using older HDDs & any that have to be specially formatted to get them to function at all or any that show poor record speeds/ intermittent performance in any way that can cause other issues later on & on other drives or the system & is not recommended from the start.

4d) TROUBLE SHOOTING (USB DRIVES)

If you have an old drive that you want to use ignoring the above warnings & it is problematic such as an old hdd or low speed / cheaper unbranded flash drive or cheaper usb to hdd interface, you can partition it in a PC & try formatting using fat32format/128, but drives that are not compatible often stay problematic in long term use & cause unrelated issues elsewhere in the receiver, especially if they have previously failed on a PC & you can lose your recordings using cheap or old devices!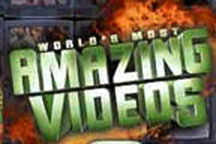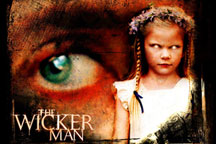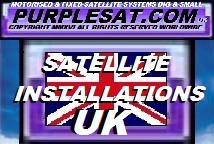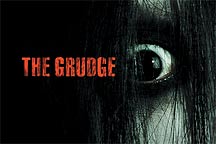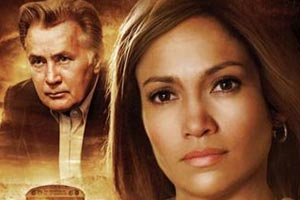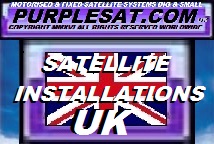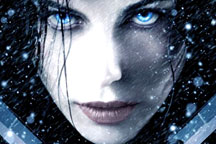 5) RECORDING VIDEO & EDITING/ TRANSFERING

5a) PAUSE LIVE TV -RW<>FF PLAY TIMESHIFT (see also 5h AUTO TIMESHIFT)
Press PAUSE button at any time will pause live TV & allow fast foreword - rewind & play of the timeline as it build up.

5b) MAKING RECORDINGS

For instant recording of the channel you are on press record, if there is an EPG the length recorded will default to the program's end, pressing it again will allow you to alter the record length.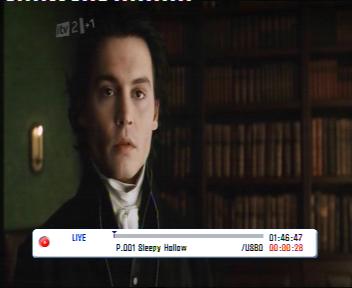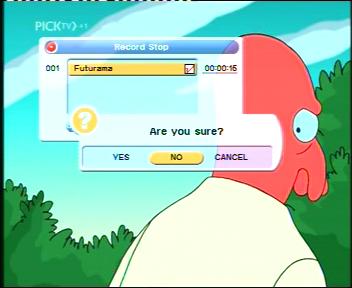 Instant record - just press red record button example of stopping a single record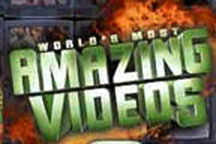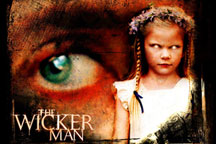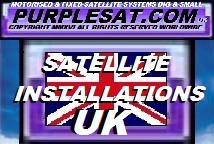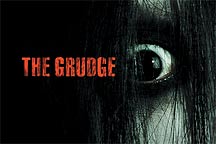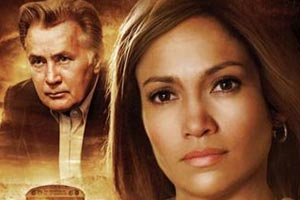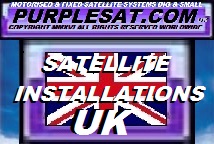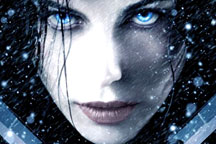 For manually set TIMER recordings press EPG & then the RED button & use the on screen menu or press MENU/ USB / TIME MANAGER to set start / end times / if once- daily- Mon-Fri- Weekly & choose the program & satellite information & whether you want to record or just play the program/ film (& possibly then record on another connected recording device etc..)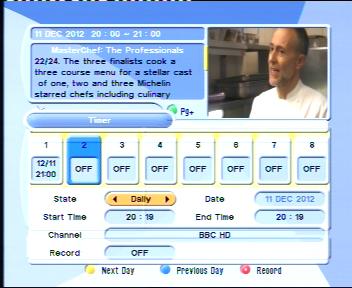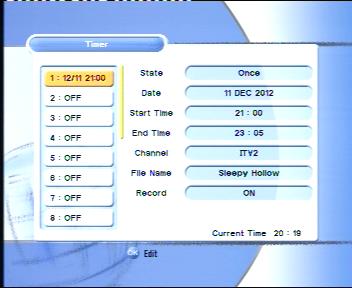 EPG + Red button linked manual timer settings OR MENU USB Timer Manager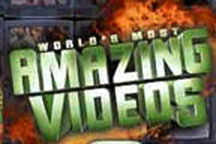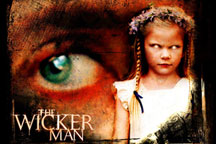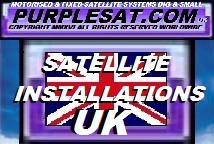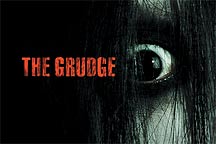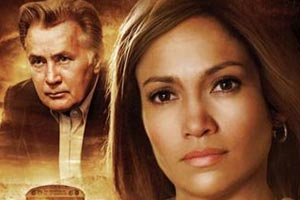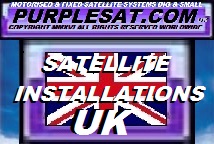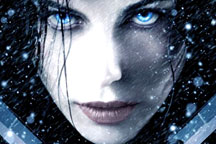 For EPG set recordings press EPG & just scroll to the program you wish to set a timer for & click the RECORD button on it to mark it for recording or just click OK to just have the receiver play it at the time.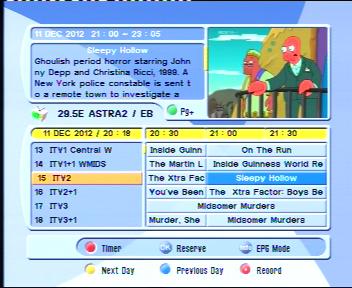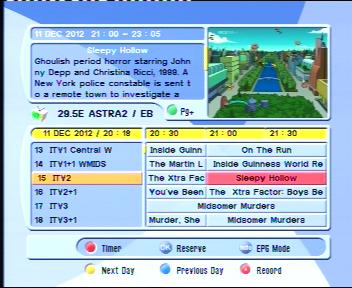 EPG Timer setting without recording. ....with recording (now in red)

For Radio (audio) recordings click on the TV/RAD button & repeat the above - ideally set the radio backgroundnd picture to off in settings menu to save recording memory.

5c) TRIPLE RECORD SD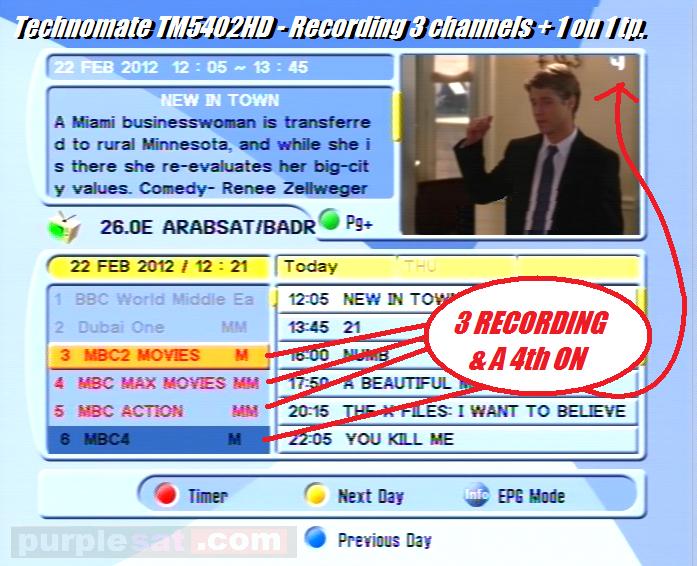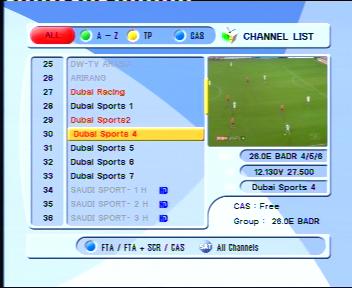 Press record on the 1st channel- move to the 2nd channel & click record & them to the 3rd & click record, the receiver will not let you access channels that are not on the same frequency - to stop press stop & you will be asked which recording to stop.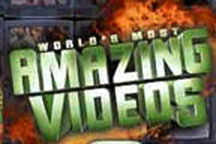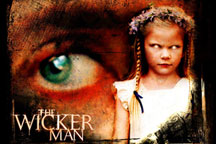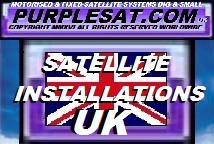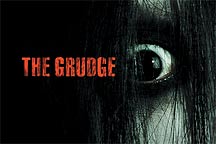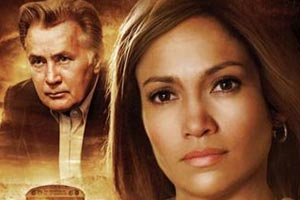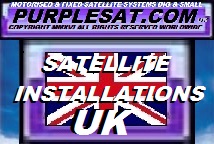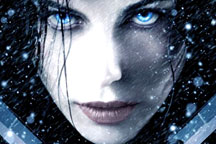 5d) TRIPLE RECORD HD .OR MIXED SD & HD

Make sure you have a USB HDD or FLASH DRIVE fast enough to deal with multiple HD recordings (write speeds) & the bit rates the channels you want to record that can range from c. 5Mb/s to over 23Mb/s.

5e) EDITING VIDEOS & AUDIO ON THE TM5402

Select FILE LIST from remote
Press Yellow button to DELETE/ RENAME/ LOCK or make NORMAL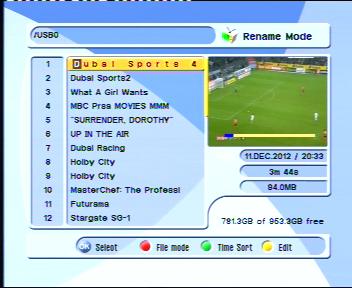 Edit recordings - RENAME DELETE LOCK NORMAL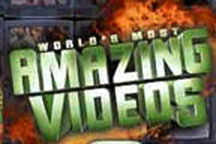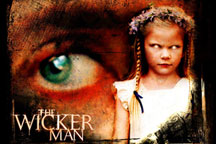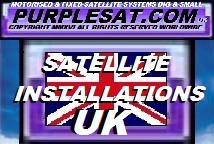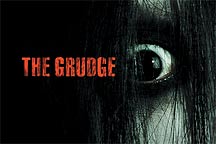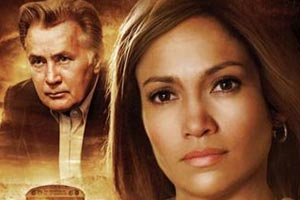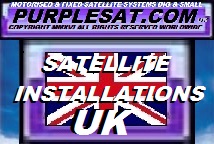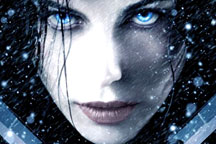 TO EDIT FOOTAGE (CUT/ COPY & ADD CHAPTER MARKERS)

Replay the video you wish to edit
press Info button to show time line & again to bring up recordings editing bar (press info twice from a blank screen)

Press F1 to mark or delete chapter points.
Press GREEN button to jump to previous chapter start.
Press YELLOW button to jump to next chapter start point.
Press BLUE button to enter CUT/COPY mode to cut adverts- make copies etc..

To EDIT (Cut or Copy) press BLUE key -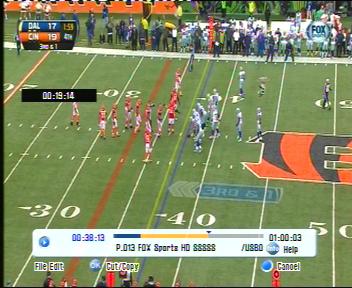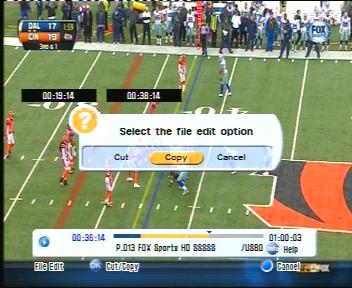 Start edit point to cut or copy end point for cut or copy

Press OK at the desired start point & OK at the desired end point & choose COPY (to make a copy of that section- a new stand alone video file will be created & numbered 1# 2# 3# etc..)

or choose CUT to cut out the selected section (such as advert breaks)

AUDIO FILES - (recorded radio) are recorded as video & audio - we recommend setting the radio background to blank in settings to reduce memory use & later edit/ rip the MP3 audio using PC software.


5f) EDITING VIDEOS & AUDIO ON A PC

.ts video files - converting / editing


5g) PLAYING AVI & DIVX FILES ON THE TM5402HD

Press F2 in playback mode to see AVI / divx files so you can view video files made on a your PC etc..

5h) AUTO - TIMESHIFT ON THE TM5402HD (see also 5a normal TIMESHIFT)

The TM5402HD has auto-timeshift (continuous timeshift) from 10 mins to up to 120 mins buffering that stays on working in the background all the time once you switch it on. It restarts from 00:00 each time you swap channels / satellites or do any recordings but isn't interrupted if you stream/ use You Tube steaming or replay prerecorded videos at the same time etc.

If you leave the TM5402HD on a channel with auto-timeshift switched on, you can effectively rewind live tv up to 2hrs back at any time on that channel & replay/ pause/ FF/ RW/ slow motion replay & jump to live TV.

[to switch on ... Press MENU -> USB -> DISK MANAGER -> Timeshift Rec Time set to 10min to 120min & Auto Timeshift set to ON]
Requires a good compatible HDD or fast USB FLASH DRIVE.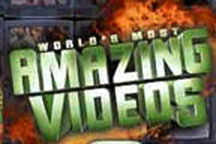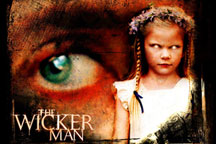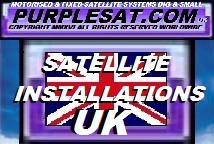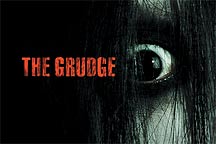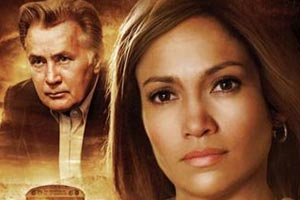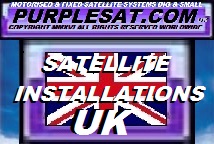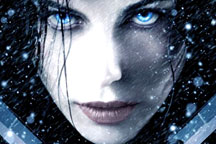 6) MOTOR USAGE
TIPS- getting the most out of motorised & USALS
To check & peak weak satellites & generally motor positioning ...
Press the POS button to bring up on screen motor positioner at anytime- nudge east or west carefully one touch at a time - if the signal quality increases make a note of the direction it increased but do not save or it will swap to diseqc 1.2 (on that satellite)- instead we advise to go into motorized settings & try altering the satellite's longitude 0.1 degree in that direction at a time & check the signal until it peaks out & starts to go down & save the new temporary position at the highest signal level.
This can happen if a chimney/ tree/ noise source or street lamp etc.. is in the way at that satellite or there is oveloads from a big dish on a powerful satellite on a weak transponder.- altering USALS instead of swapping to Diseqc 1.2 keeps all satellites correct & if all satellites are out- this means the motor is off &/or the dish's bracket has bent slightly & it will tell you exactly by how much where diseqc 1.2 cannot- a small correction (on your true longitude the other way fooling the motor to move all satellites that amount the other way!) is acceptable as 1 degree at the dish is 0.07mm @ at the stub.

EG: 21.5e is very near the very powerful & highly populated 19.2e - in the UK moving away slightly can help reduce bleed over from 19.2e resulting in a higher quality reading - move too far and the result will inevitably be it will go down but at 21.6e ...to .... 21.9e you may gain an overall improvement- (this will not happen in the middle of the footprint). 7w Nilesat or 4w reception are others you may wish to experiment with but most will be fine in USALS.
DISEQC 1.2 &
36v MOTOR CONTROL


***********************************************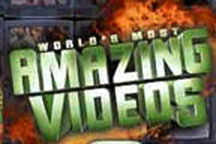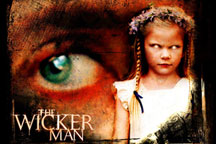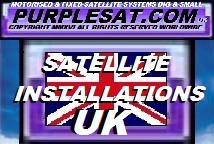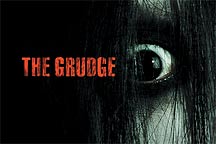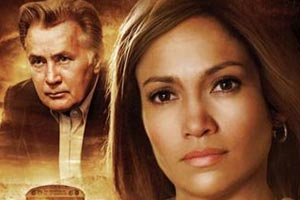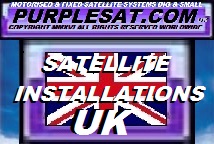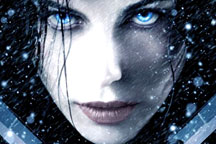 7) EDITING CHANNELS- SATELLITES
EDITING CHANNELS
MOVE can be used very quickly to move all your favourite channels to the top of each satellite.
EDITING FAVOURITES
Once you have added favourites you can use the MOVE function to put them in your favourite order in the same way - just select the favourite to be edited then go to the MOVE function.
EDITING SATELLITES/ ADDING FREQUENCIES /CHANNELs
ADDING SINGLE CHANNELS

EDITING USING A PC EDITOR -
TECHNOMATE EDITOR
CLARKE-TECH EDITOR




see also SECTION 13.. FEEDS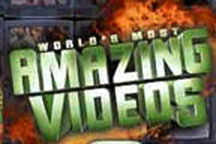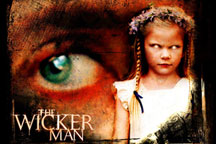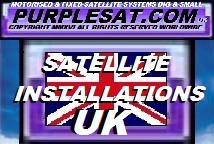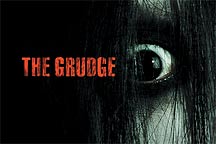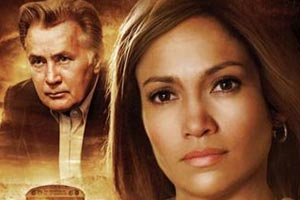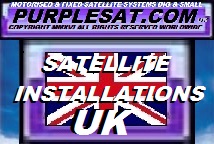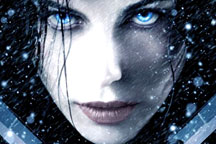 8) STREAMING VIDEO IN THE TM5402HD

8a) ACCESSING DRIVES ON A NETWORK (PC HDD shared folders & NAS )

MENU >> USB >>> File Manager >>> press Yellow Button.... enter IP Address of the PC hdd drawer or NAS device .

YOUTUBE works automatically once you plug in your router to your TM5402HD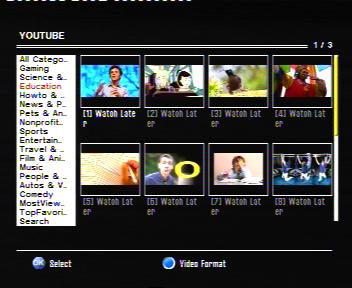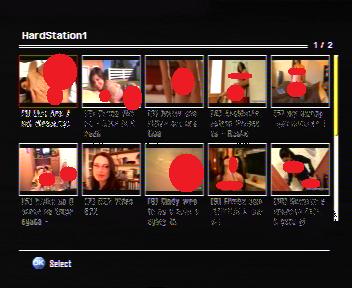 Youtube pin protected Adult streaming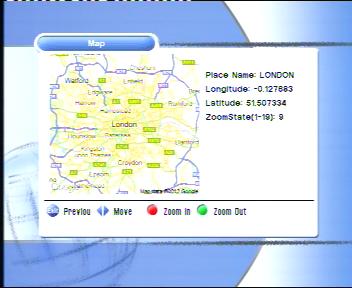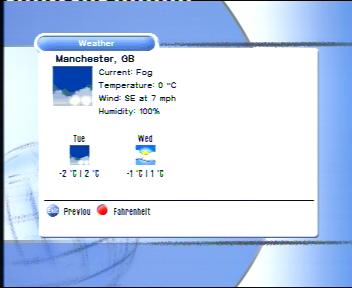 Google Maps Weather Forecast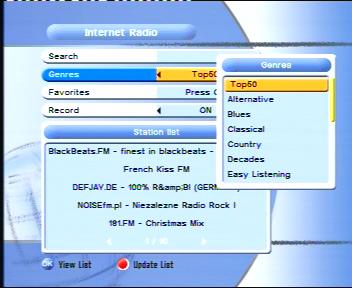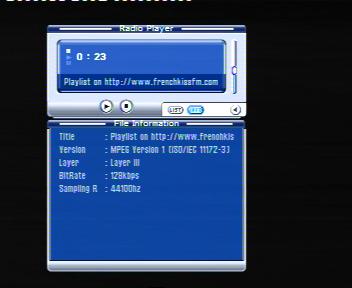 Radio Menu Radio Console

Typing 1149 on Entertainment MENU adds 2 x adult only streaming services- still requires adult pin.

8b) STREAMING FROM A PC

Download latest Streaming software & instructions HERE.


9) USING SKY CARD IN TM5402HD

Your legitimate Sky card should work inserted in the TM5402s card reader, if not Press Yellow key to input box key for sky cards (legitimate use in other receivers)*
This allows you the same access as a Sky box but you can have your channels in your most favoured order & use up to 16 favourites to organise them for yourself & family plus more record options & retain the use of recording without their excessive fees should you cancel your sky subscription.

If the TM5402 does not recognise the Sky card ..
how to inter box number
1-insert your card in the card reader
2- in the menus go card reader press ok
then upress yellow button insert numbers
exit to save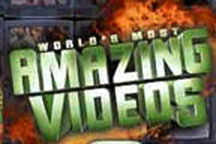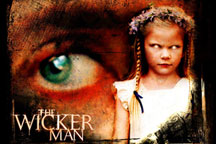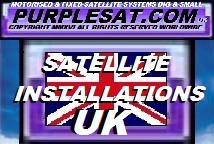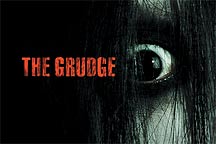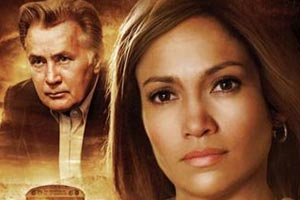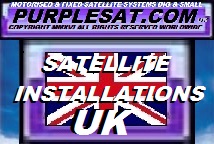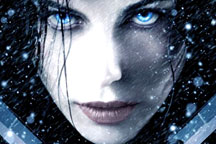 *****************************************************************************************************************
10a FEEDS ... AND ADDING NEW CHANNELS / SATELLITES & FEEDS



ADDING FEEDS FOR FOOTBALL / SPORTS / CONCERTS etc.
You can pick up live broadcast feeds from around the world as they are sent back to the studios here. These are often left open & can be viewed including live English football maches / sports events of all types/ live concerts etc. etc.. and news feeds.

So how do I get all these Broadcast TV feeds on the Technomate TM5402HD?

The TM5402HD can blind scan any satellite to look for feeds & you can use regular reported feed TPs off lyngsat .... but the easiest & quickest way is just to go to www.satelliweb.com where feeds are reported hourly by other enthusiasts, look through the live DIRECT FEEDS section -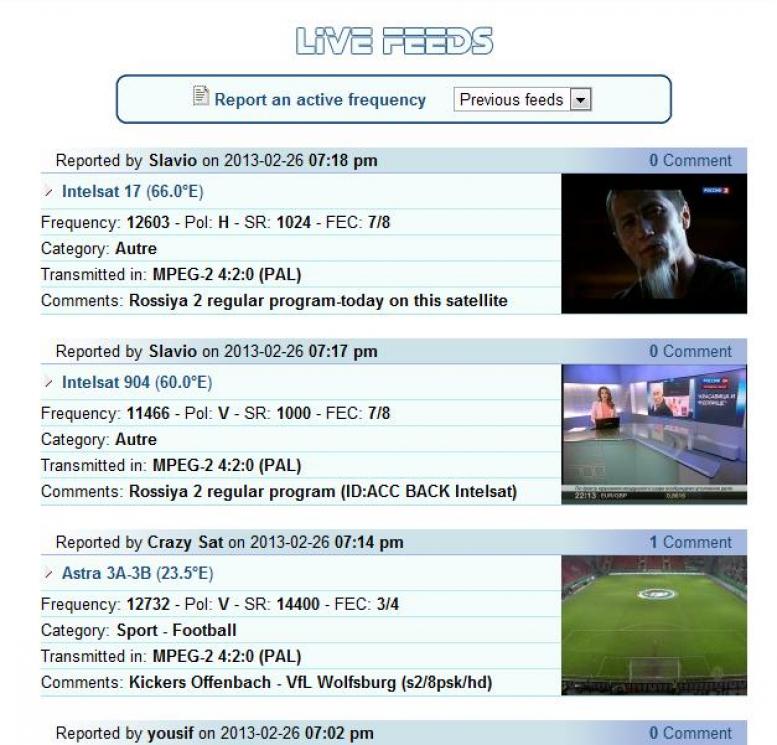 CHOOSE FEEDS YOU CAN RECEIVE WITH YOUR DISH SIZE.
NOT - crypte / enc' encrypted/ or multistream (requires a pc card or 17" rack equipment atm)
4:2:2. FEEDS . On most satellite receivers you cannot see 4:2:2 broadcast feeds LIVE as they are transmitted in a slightly different format however if you record them you can still view them afterwards by playing them back on a PC with appropriate software that plays .ts files and on Linux E2 receivers you can stream the transport stream out to a PC or other device & show it live.


EXAMPLE FOOTBALL FEED SENT FREE TO AIR...





Goto the satellite in question (eg above 10 east)

press MENU >>>> over to >> Advance Search & click OK to enter that menu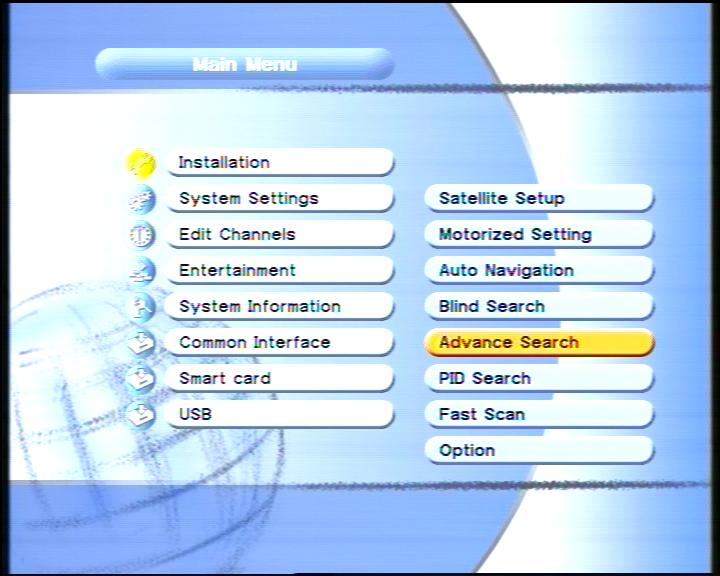 look through the transponders using the blue ring sideways buttons (also used for vol+/-) to see if you have the frequency (within 1, 2 or 3 out is OK)
& the same polarization (H or V)
& the same SR (symbol rate)
as on the feed you chose on www.satelliweb.com ...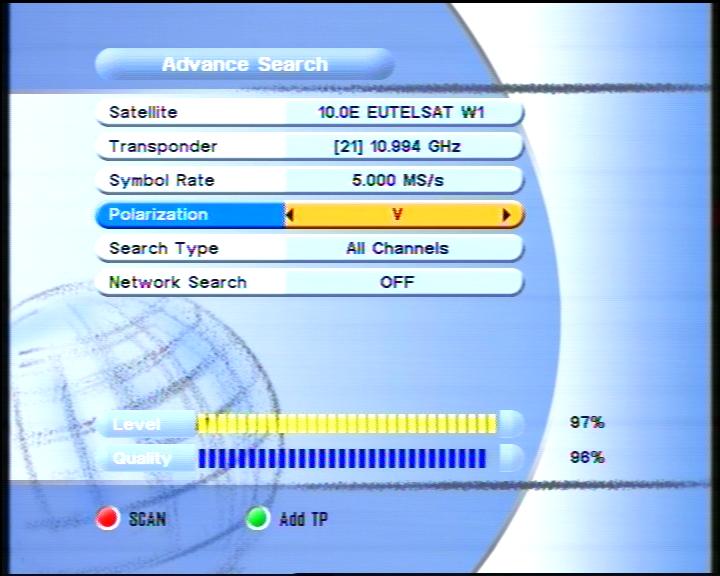 checking the frequency/ symbol rate & polarization.



to these (ringed in red )





if you do find a match the LEVEL & QUALITY bars should light up yellow & blue.

LEVEL IIIIIIIIIIIIIIIIIIIIIIIIIIIIIIIIIIIII
QUALITY IIIIIIIIIIIIIIIIIIIIIIIIIIIIIIIIIIIII

press red button to scan for the feed ...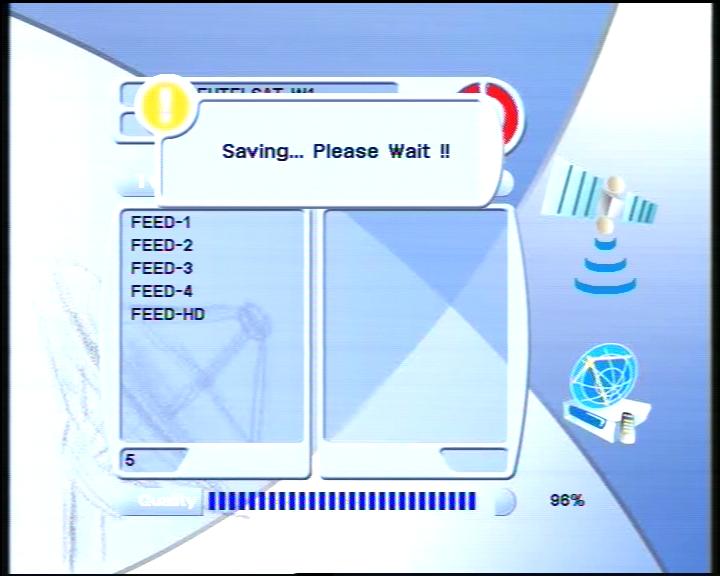 And those are the FEEDS being scanned in & SAVED now...
PRESS EXIT to exit back to the screen & find the new feed..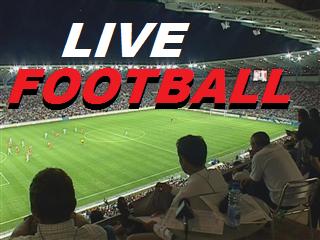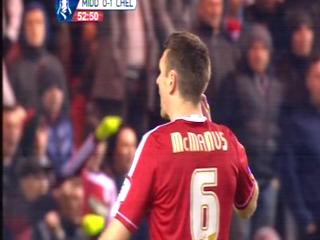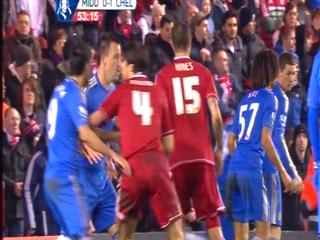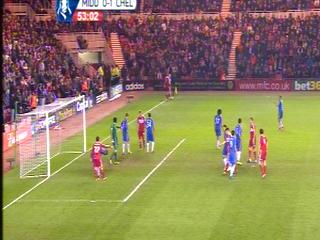 And there's the match .. in HD this one, they are usually in higher broadcast quality- success! ..
screen shots of different examples..
the above example is off Manchester United v Chelsea in broadcast quality HD at a massive 30Mbps.
LEVEL IIIIIIIIIIIIIIIIIIIIIIIIIIIIIIIIIIIII
QUALITY IIIIIIIIIIIIIIIIIIIIIIIIIIIIIIIIIIIII

************************************************************************************************************************




LEVEL IIIIIIIIIIIIIIIIIIIIIIIIIIIIIIIIIIIII
QUALITY IIIIIIIIIIIIIIIIIIIIIIIIIIIIIIIIIIIII

if you do not find a match to the frequency
press the green button
and add a new TP -
input the frequency in the transponder line -
input symbol rate
&
input polarization -(H or V)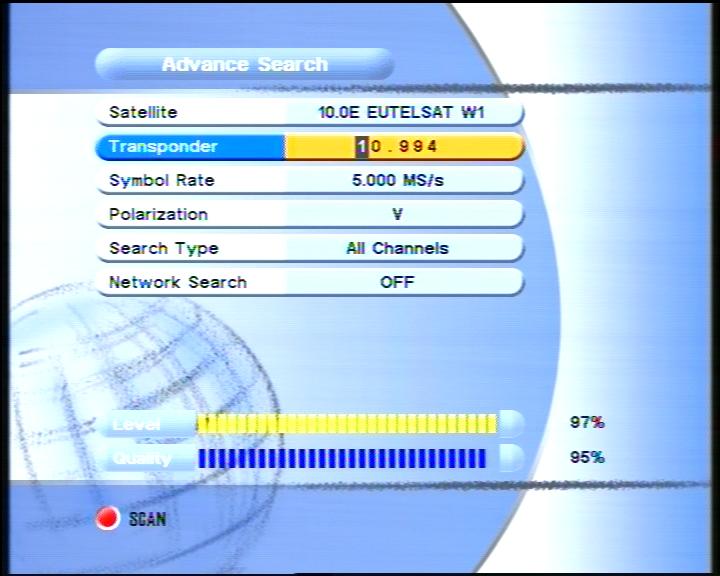 editing the frequency/ symbol rate & polarization to those on satelliweb.com below.



to these (ringed in red )
& press red button to scan & exit to the screen & move to the feed (if it's not already on).

************************************************************************************************************************



if the frequency is there
& the poolarization is correct-
check & alter ther symbol rate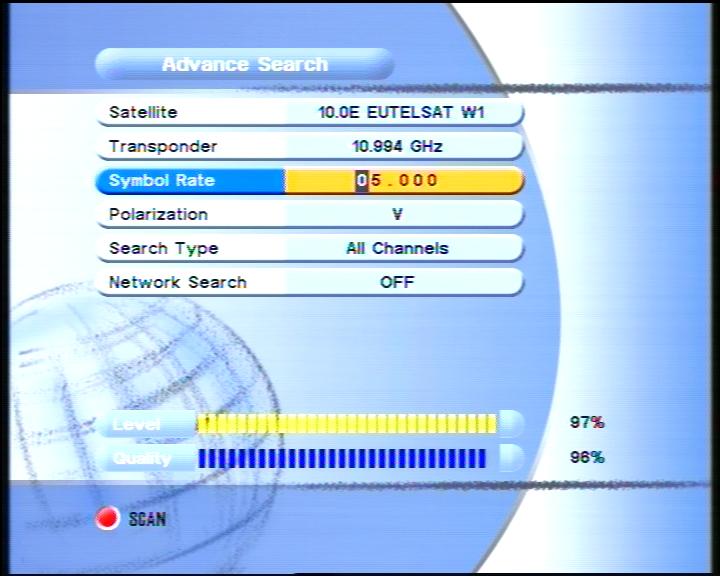 & alter to match that to the one you chose off www.satelliweb if different,
press red buttn to scan & exit to the screen & move to the feed (if it's not already on).
************************************************************************************************************************

If you still haven't found & scanned in the feed check all the above settings are correct including being on the correct satellite - it may be that it has ceased or become scrambled (it will stay blank but show the word scrambled & signal/quality bars will slill light up)

**************************************************************

INPUTTING FEEDS ON LINUX/ ENIGMA 2# RECEIVERS
MENU ..... Scroll down to SETUP..... Press OK
Press OKon Service Searching .... Scroll down to manual scan..
Select desired satellite... use Scan 1 TP option (2nd line down) / edit frequency ... Symbol Rate ...... Polarization.... FEC .... DVBS / DVB-S2
Press OK to SCAN or drive over to the satellite & SCAN.
If it scans in .. press OK to store - exit back to tv screen ...
press up button then green (sat) button
& look for the new feed/s in Services or New on that satellite.
SEE HERE FOR FOXSAT HD RECEIVERS HIDDEN MENU USE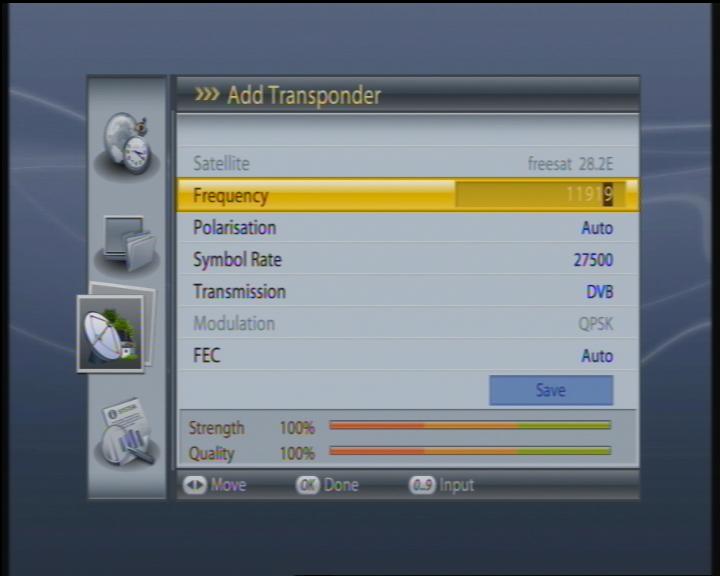 *************************************************************


********* SOME EXAMPLES OF RECENT BROADCAST FEEDS *******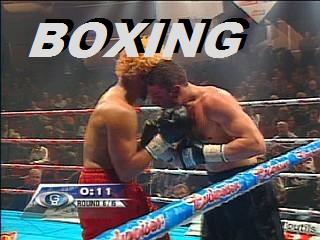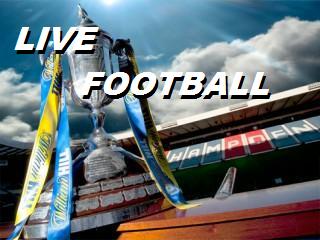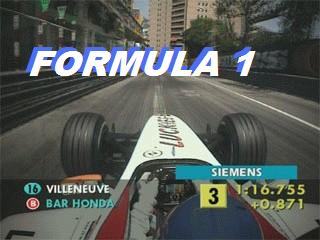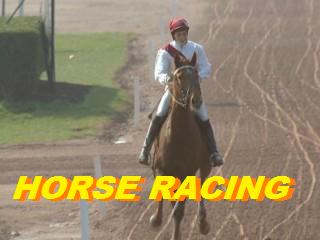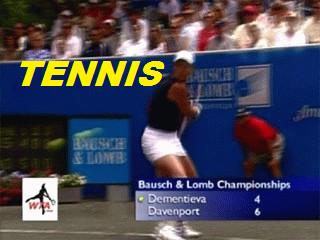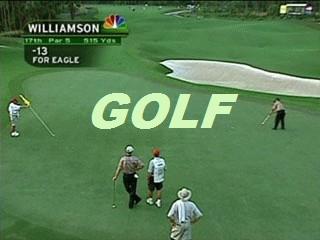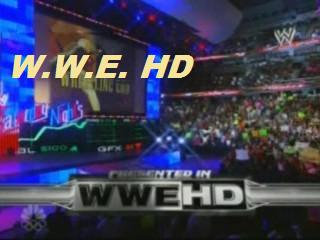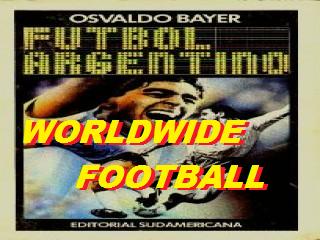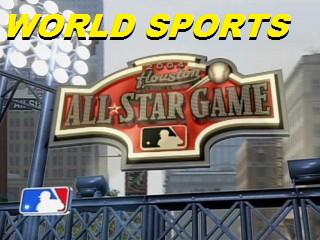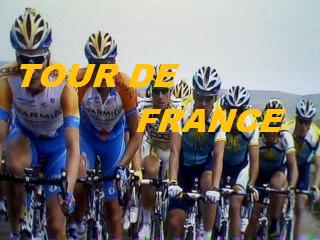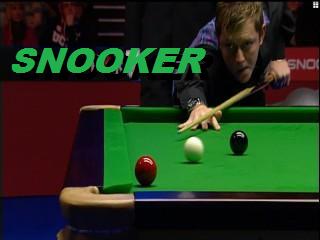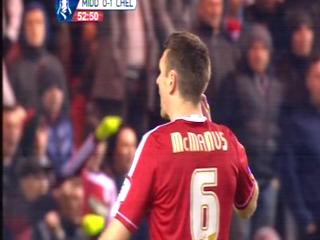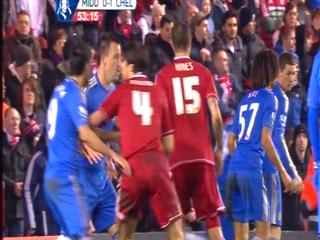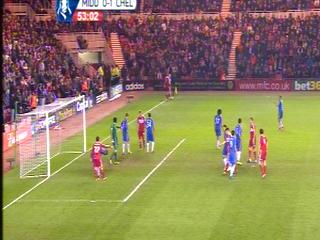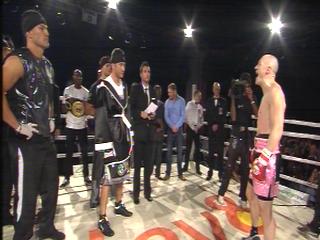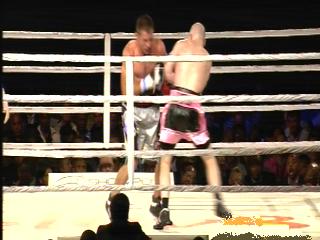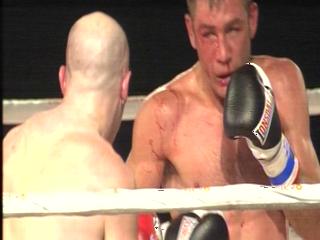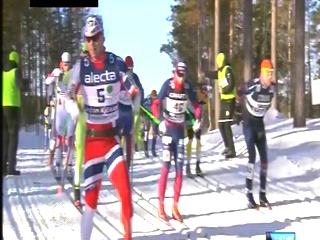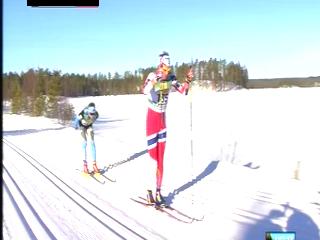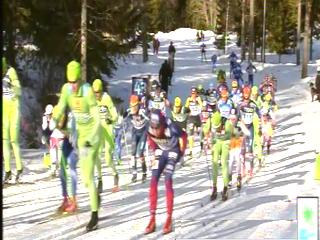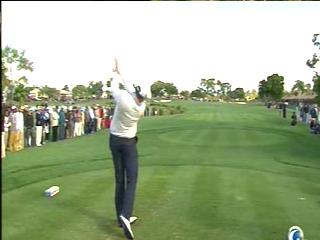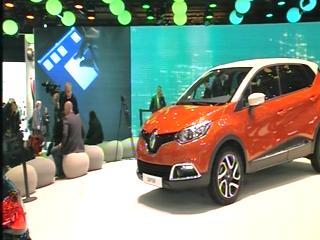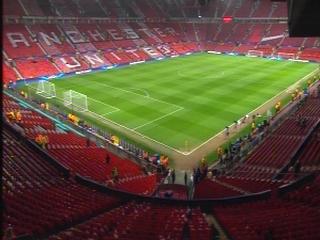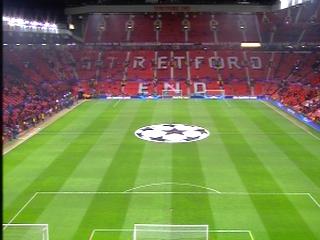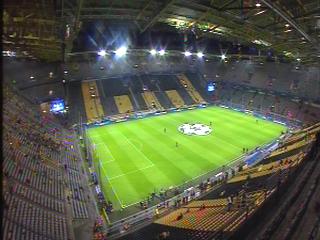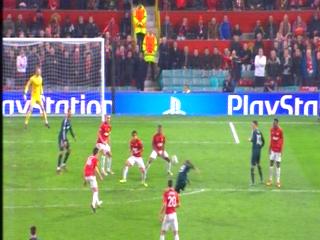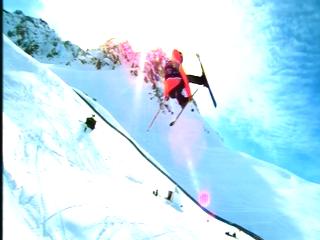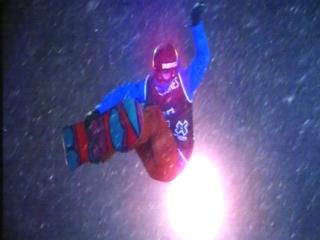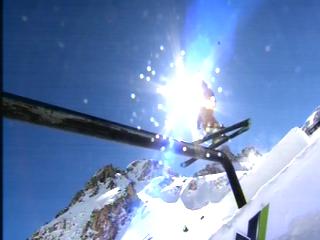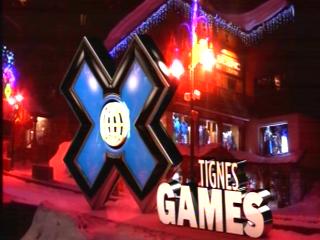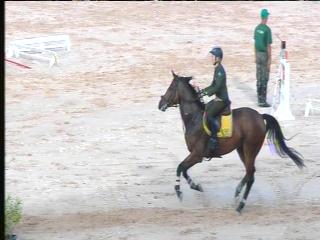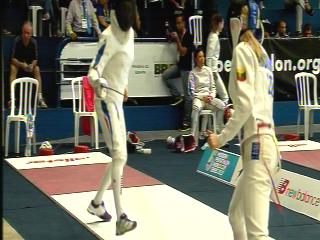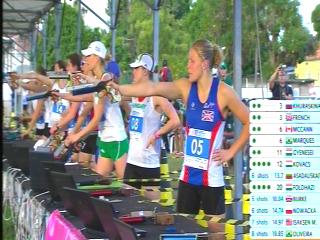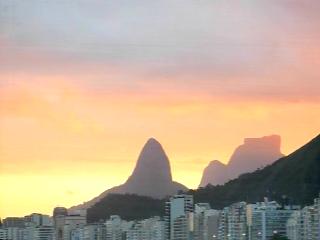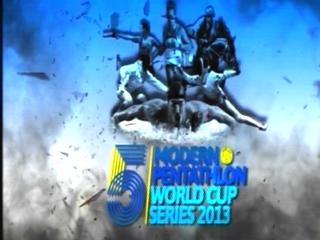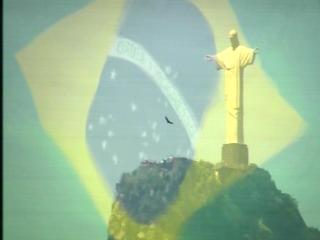 FORMULA 1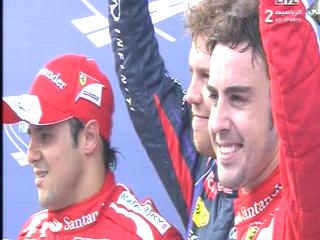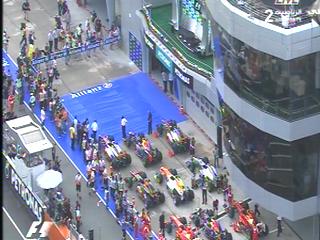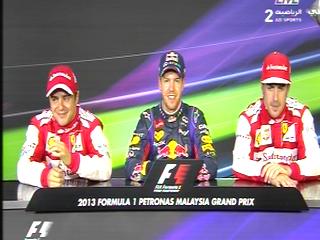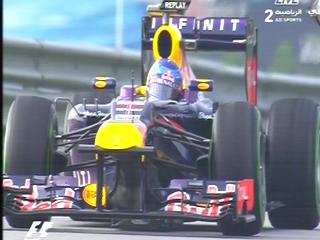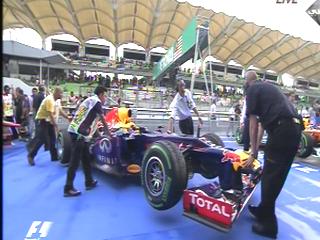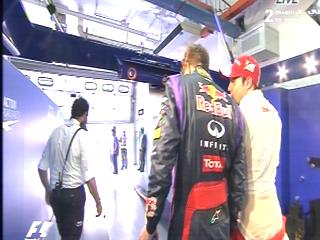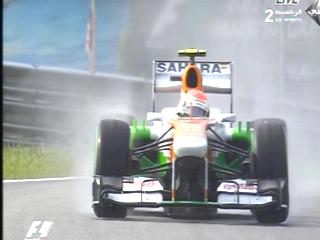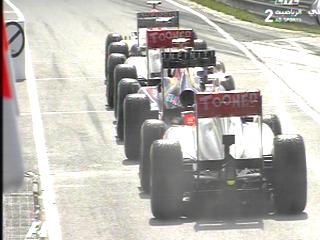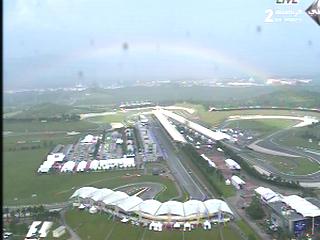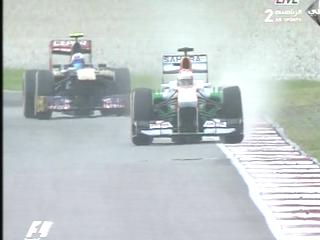 KICK BOXING.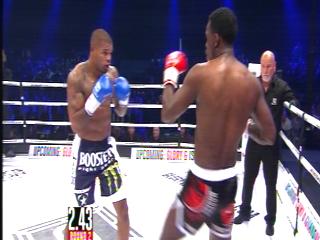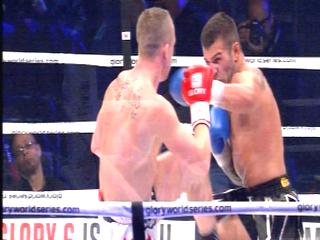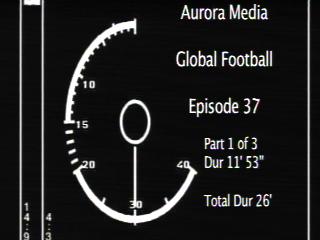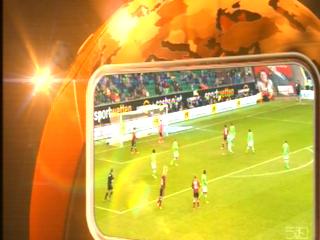 An example of a testcard/ pre-roll-clock broadcasters use to line up transmission starts>> & the Gobal Football program.





*************************************************************************************************

10b USING LJ's *** (liveonsat.com) ***

Looking for MORE FREE FOOTBALL matches - match times - providers/broadcasters around the arc- PLUS OTHER SPORTS EVENTS
.... goto LJS- LIVEONSAT.COM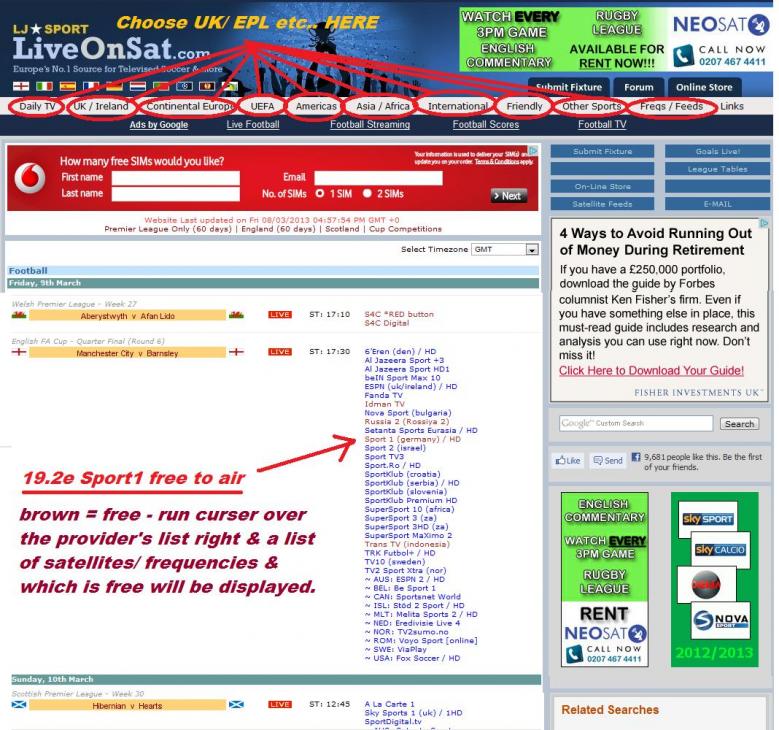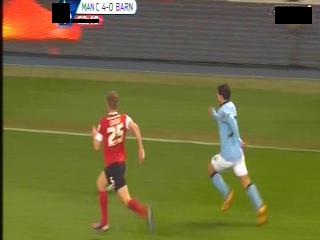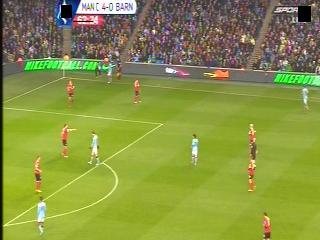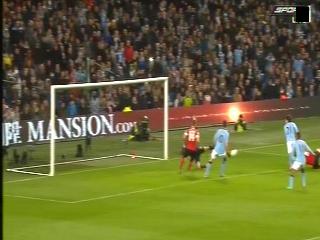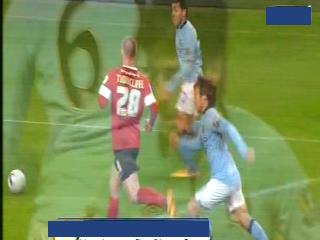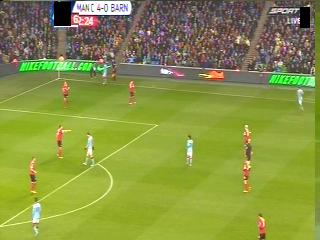 Simply go to the satellite in question & the channel the match is on (usually already stored in favourites - SPORTS ).
Brown indicates it's free to air or has a BISS key.
If the channel is not there you will need to scan it in using the information provided in the panel as you put your cursor over the broadcaster ...
for example only ...
if the Satellite is... 10e Frequency = 10994 Symbol rate = 5000 & Polarization is V

GOTO 10e.. PRESS MENU ... Go over to Advance Search .. & search for the transponder -
the example would look like this it will look like this & if it isn't there in the list add or edit it so you have the channels frequewncy etc..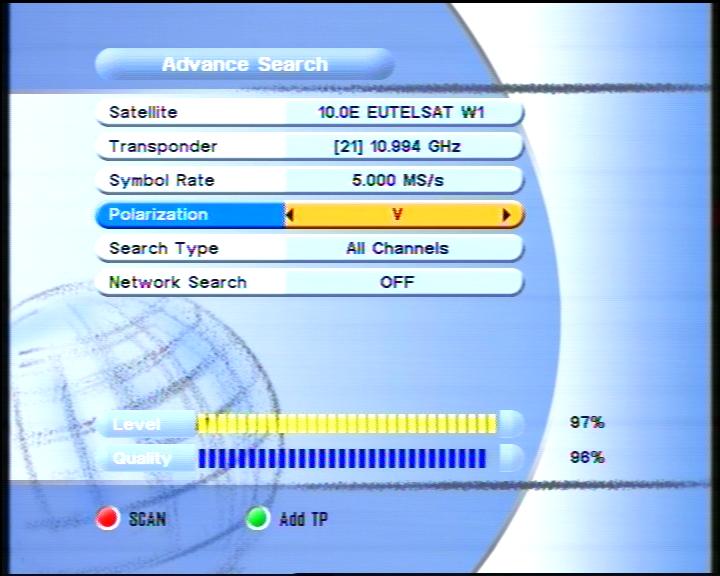 And here's the match example ......>>>>>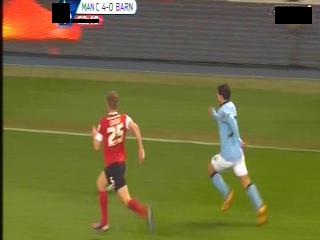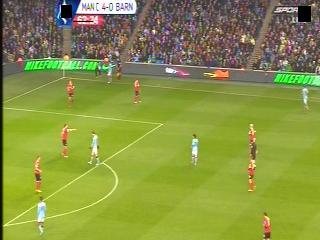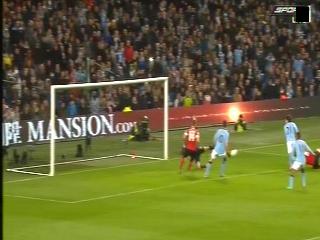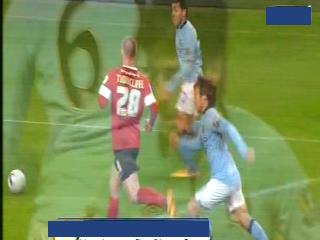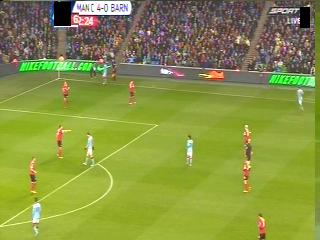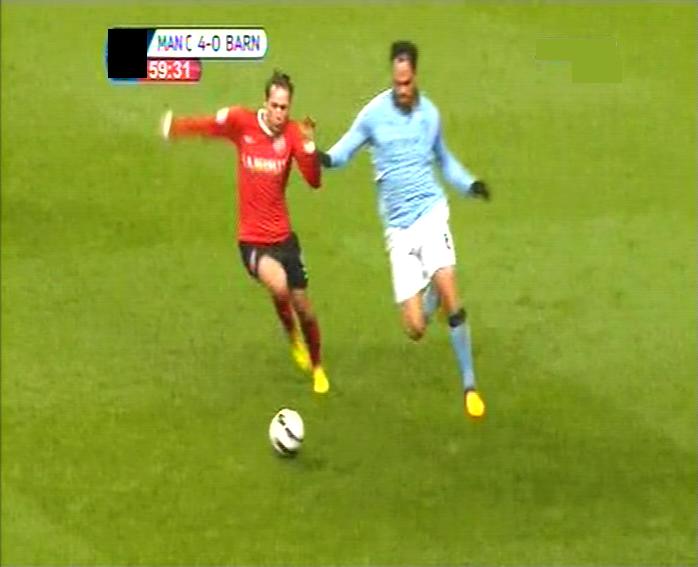 (NB: OUR SCREEN SHOTS DO NOT SHOW HD ETC.. AT THE TRUE QUALITY)



====================================================================================================
11) SW BUG REPORTS 5402

BUG REPORTS FOR TECHNOMATE SW & PHANTOMPATCHES SUSPECTRED & CONFIRMED
As with all software/ hardware bug reports are useful especially for 3rd party unofficial software.

System crashes while editing a large number of tps - always save regularly/ keep tps under max allowed.

******************************
11a) FAULT FINDING TIPS

Many diverse faults can be caused by using cheap/ faulty/old &/or slow USB devices just the same as having an unreliable device on a PC/Laptop can cause all sorts of apparently unrelated faults that disappear when the device is removed- see recommended USB devices.

Faults can arise from attaching to devices with electrical faults such as old sky boxes/ tvs/ vcrs / new or old smpsu's with hf-rf faults etc.. including in other rooms via coax aerial leads or av leads or shared LNB cables on twin/quad/octo lnbs/ lnb switches or using lopp through to or from a faulty receiver.

Faults can arise from errors in flashing / patching or images becoming corrupted over time.
If you see a fault or faults that are unusual you could have a corrupt image or flashing issue - typical signs are certain obvious options that stop working.

If in doubt & for good regular housekeeping, back up all & re flash to original latest Technomate software - do a factory reset & reload the channels & test for a few days - if the fault has disappeared re flash with the latest patch.

******************************************************

12) WISH LIST OF NEW FEATURES

7 Day EPG on Astra 2 - auto update from sat & from net (now is even faster***)
Iplayer ITV player etc. function.
Red button digital text services (access to news/ weather pages etc. by BBC/ ITV/ Sky)
Server / stream out functionality to stream satellite, streams in & recorded films out to other devices.
Search engine function.

PVR - paste video in video editing (insert edit)/ audio dub/ auto chapter marking/ easier transfer to dvd/br or pc format video. (all these are available on a PC)

Refresh satellite..... function to clear out tp / channel clutter & a combined Network/ blind scan a fresh retaining channel order & favorites, possibly net database linked.

record / divert in streams to hdd

Auto edit new added satellites in longitude order

overwrite old games area with new functions as pluggins over Tetrus etc..

Load new Skins option to change the look of the menus etc.

tell us what you want.

***********************************************
13) OTHER TIPS

REMOVE ZOOM BOX IN FULL MOTOIN ZOOMED
Click on ZOOM button on the remote - move the BOX to the location you want to zoom into & press OK for the amount of zoom you want - at that point you still have the zoom box graphic on screen (& in the way)- so to remove it press the button to the right of the zoom button [UHF) & then press exit = no box!

********************************************************************




INDEX

REFERENCES

USB DRIVE SPEEDS FOR PVR USE

References

USB HDDs & FLASH DRIVE SPEEDS
###Notes from Sandisk manufacturer about USB memory stick & other memory write/ read speeds

USB Flash Drives
Most of the SanDisk USB flash drives fall under the entry level category unless otherwise labeled as Ultra or Extreme.

Entry level USB drives do NOT have any defined transfer speed.

The Ultra and Extreme USB flash drives MAY vary from 10MB/s to 25MB/s depending on the specific product.

other memory for comparison.

SD/SDHC/SDXC cards
The standard (Blue labeled) line has a minimum transfer speed as defined by the Class Specification printed on the label.

For example, a Class 2 SD/SDHC card will have at least a read/write speed of 2MB/s. Class 4 SD/SDHC card will have a minimum transferspeed of 4 MB/s.

The transfer speed of the Ultra, Extreme and Extreme Pro SD/SDHC/SDXC cards are listed on the card and the packaging. Depending on when the product was manufactured, the Ultra cards speed can range from 10MB/s to 30MB/s. The Extreme and Extreme Pro cards speed can range from 20MB/s to 30MB/s. The defined transfer speed is calculated using benchmark applications and refers to maximum sequential transferspeed.

CompactFlash cards
The standard line CompactFlash cards do NOT have any defined transfer speed. These are entry level cards and will generally be slower cards suitable for low end entry level cameras.

The speed of the Ultra, Extreme, and Extreme Pro CompactFlash cards are listed on the card and the packaging. Depending on when the product was manufactured, the Ultra cards speed can range from 10MB/s to 60MB/s. The Extreme and Extreme Pro cards speed can range from 20MB/s to 100MB/s. The defined transfer speed is calculated using benchmark applications and refers to maximum sequential transfer speed.
=====================================================================================